Clio Law Practice Management System Review for 2023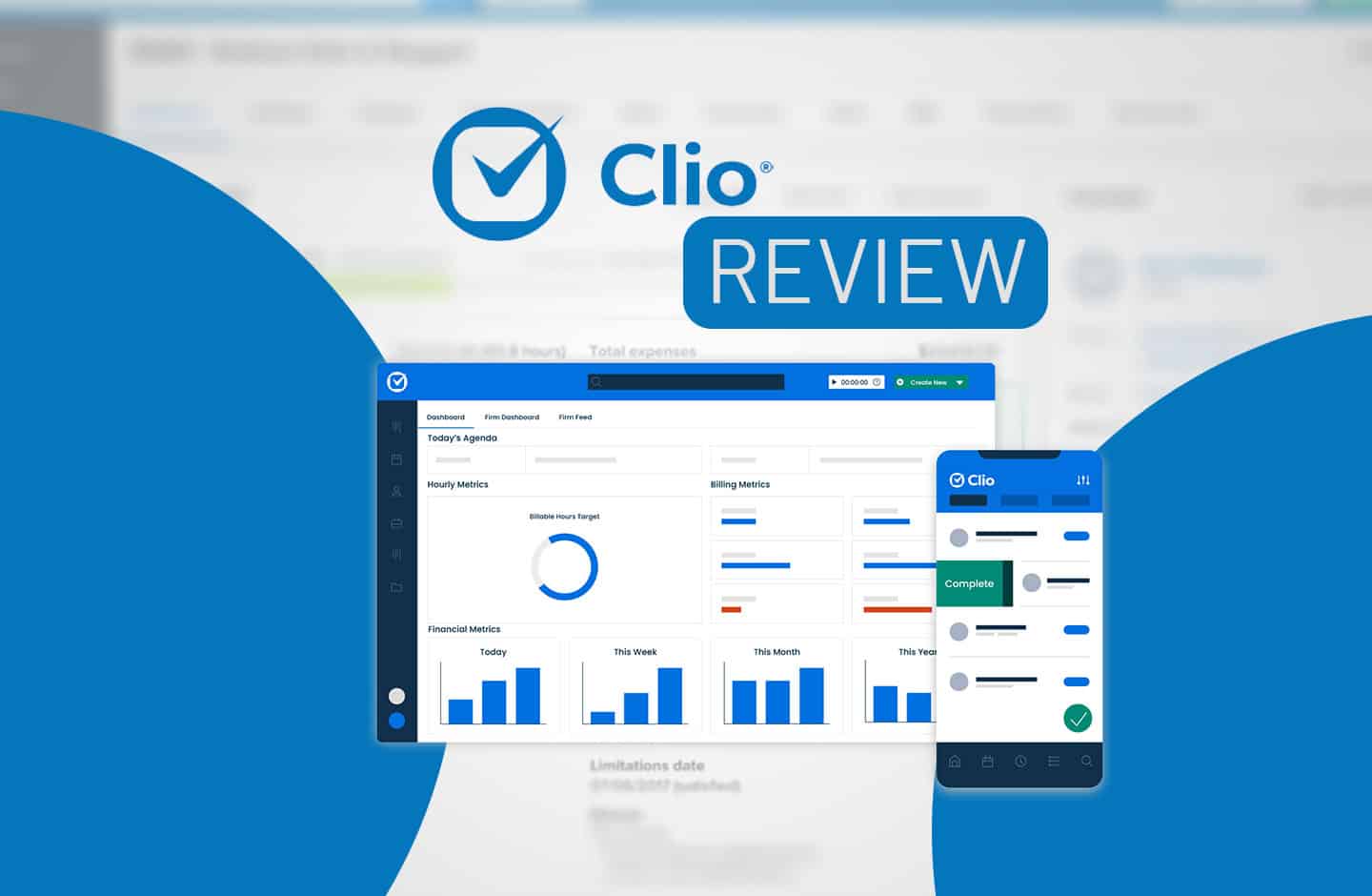 Clio is a cloud-based law practice management system that launched back in 2008. This popular management software is now used by thousands of law firms. It enables lawyers and other business professionals in the legal industry to manage client cases, track important deadlines and documents, and create custom billable hour targets.
The system is both powerful and innovative, allowing you to improve the efficiency of internal workflows and processes. For example, the legal software application provides you with a comprehensive dashboard that displays workload, performance, and goals.
Clio also offers various time tracking, document automation, billing, and reporting tools to help you manage your firm more effectively. If you want to manage your cases, send and track email correspondence, and schedule appointments with ease, check out this law practice management software solution.
In this review, we will look at the software's functionality, design, and features and evaluate how it can benefit your law firm.
---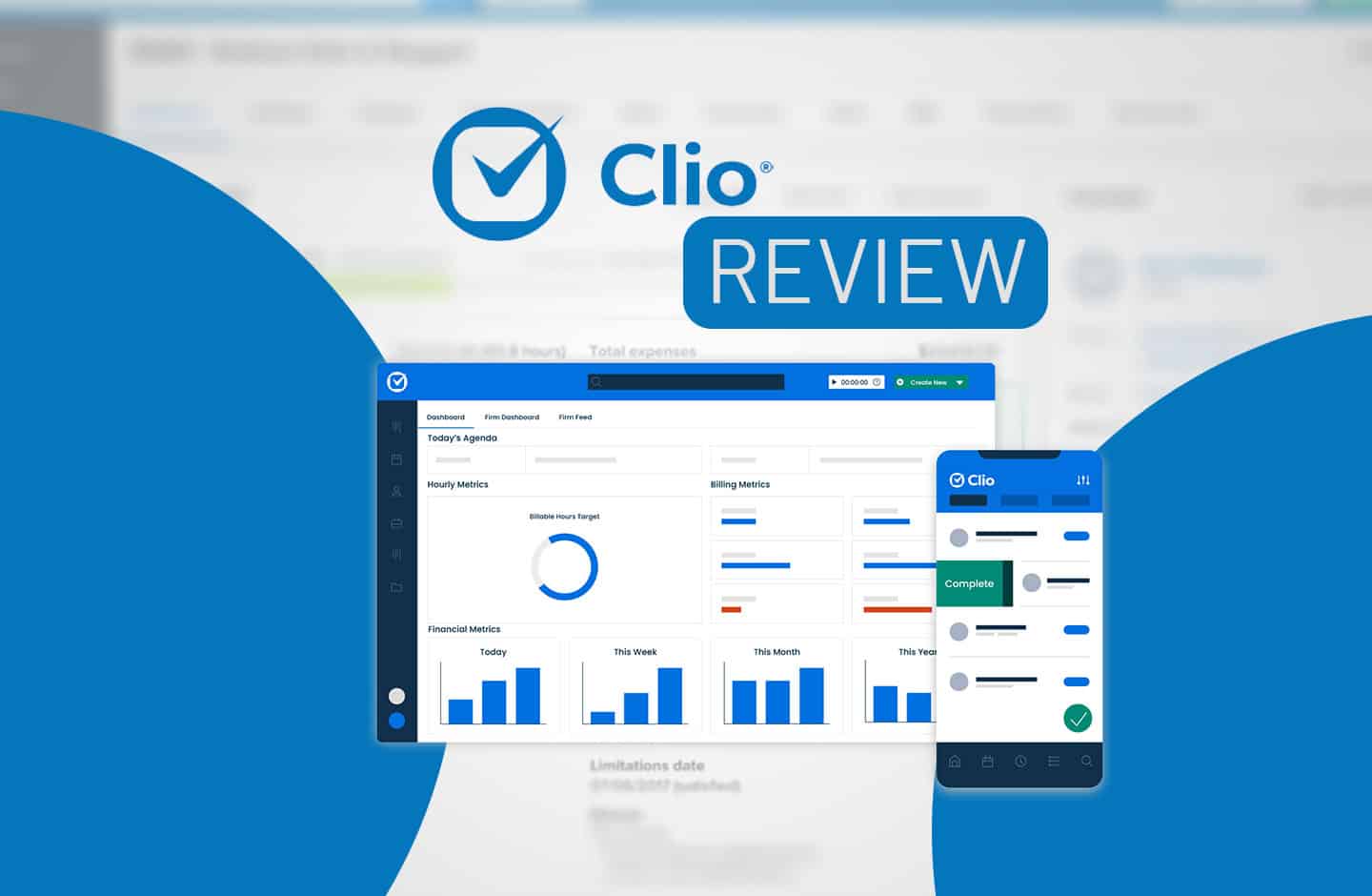 Clio is a Law Practice Management Software (LPMS) that helps both small and big law firms manage their organization more effectively. The software streamlines various tasks including client intake, calendaring, contact management, document management, timekeeping, billing, and trust accounting. Clio also offers an extensive App Directory and encourages integration with other applications.
This legal software is trusted and proven among key players in the legal industry to help manage and grow law firms. The software is used by over 150,000 legal professionals across 100+ countries. Further, over 70 bar associations approve Clio to members and more than 150 law schools also utilize their services.
Clio Software: Key Features
Clio's law practice management software provides essential features needed to streamline processes, automate workflows, and improve a firm's overall organizational structure.  Here are some key features
Clio Manage: Case and Task Management
Clio Manage is a case and task management tool and defining feature of any practice management software. It helps lawyers manage all of their to-dos in a single dashboard. On a more granular level, Clio Manage is used for document management, case organization, time tracking, billing, and calendaring.
It can also be used to set deadlines, statuses, and deliverables, so everyone is on the same page and knows what needs to be done next. This feature will help you keep track of all practice management tasks as smoothly as possible, so you can focus on the matters that count for your law practice.
Timekeeping and Expense Tracking Software
For those who bill by the hour, Clio offers timekeeping and expense tracking software that automatically captures time, tracks expenses, and reports billable hours. You can also add time entries directly from calendar meetings, tasks, communication logs, notes, etc.
All recordings occur in real-time and there are options to pause or stop the timer when needed. You can even set up rules for specific billing rates based on what type of work is being done or how long it takes to complete specific tasks. This will make it easy to manage cases and bill clients.
Legal Calendaring Tools
Another valuable feature for attorneys who bill by the hour is calendaring. It allows them to see and set appointments for a given day, helping to avoid missed meetings and deadlines. Through the software, you can confirm client appointments via text, update case milestones, and automatically assign deadlines based on court rules.
Legal Client Portal
Clio offers a secure client portal that's accessible on mobile devices and desktop computers.  This client-attorney communication portal is designed for both clients and lawyers who need to securely communicate and share information. Users of the portal can easily scan and upload documents, send secure messages and attachments, and access case communications and documents at any time.
Clio App and ​​Integration Directory
One thing that makes Clio stand out from other legal management systems is the App and Integration Directory. Clio integrates with various applications including Google Suite, Microsoft Office, QuickBooks Online , Zoom, Dropbox, and more. These integrations allow you to easily share information internally and with clients all in one place, rather than having multiple programs open at once.
Document Management and Automation
The document management and automation feature, also known as Lawyaw, allows you to store all your legal documents in one place. The software can easily convert Word docs into programmable, cloud-based templates. You can also fill out and e-sign standard PDF court forms directly through the program.
The document management feature creates folders to organize your documents into different categories, such as client work or casework. The best part about this cloud-based legal feature is that it allows you to share documents with other users anywhere and at any time. You can also make customized fields for each document type to capture any information that might be relevant for future use or reference.
This document management and automation feature helps you keep track of all essential details related to a particular matter or case.
Legal and Trust Accounting Management
The legal trust accounting feature is excellent. Clio ensures that every trust transaction is automatically recorded across all ledgers and compliant with regulations. Law firms can easily manage client funds in trust accounts with the help of this innovative legal accounting software.
There are also tools to generate reports across transactions associated with a particular client and set up separate ledgers for trust and operating accounts, as required by legal industry regulators. From there, you can create compliant invoices that detail funds removed from the trust, as well as remaining trust account balances.
Billing and Invoicing
Clio makes it easy for your practice to generate invoices quickly. You can customize statements according to your needs and preferences, using easily customizable templates provided by Clio. All invoices will automatically include relevant information, such as due dates, the amount due, etc.
Clio Payments
Clio Payments is a built-in payment system that accepts credit cards, debit cards, and eChecks. It makes it easy for clients to pay their bills on time and improves your collection rates and firm efficiency. The payments feature processes collections fast and automatically, providing a convenient online payment solution for both you and your clients.
Clio Grow
Clio Grow is a cloud-based client intake and legal client relationship management (CRM) software that helps law firms attract and retain prospects. The program automates the intake process, using shareable online intake forms and document automation tools to keep everything organized within the cloud.
It can also book consultations with Clio Scheduler and Clio Cloud Conference, which seamlessly integrates with Clio's payments functionality. Finally, the software helps to streamline day-to-day tasks including email follow-ups, data entry, and other redundant tasks.
Law Firm Insights Dashboard
The insights dashboard provides a big-picture visual of your firm's performance. It includes things like billable hours captured and collected, opportunities to improve productivity and revenue, and how much money you're making versus losing. Utilization, realization, and collection data is then displayed in one central Clio dashboard.
Clio Pricing and Plans
Clio offers flexible options for small law firms firms and large-scale legal practices. All plans include live support, free training, and data migration services. Here is an in-depth look at Clio pricing and the four main plans:
EasyStart: $39/user/month when billed annually: Tracks time and expenses and allows clients to pay online using credit, debit, or eCheck (US).
Essentials: $69/user/month when billed annually: Streamlines client relations, case management, documents, and workflows with secure communication tools, templates and auto-fill docs, and integration with QuickBooks Online, Zoom, and more.
Advanced: $99/user/month when billed annually: Maximizes productivity with increased task detail, fast document searches, live onboarding sessions and training, and insight on case management, profitability, billing contributions, etc.
Complete: $129/user/month when billed annually: Provides everything needed to run your law firm in the cloud, including streamlined client intake processes, online appointment bookings, automated emails, and referral source reporting.
All plans offer a 7-day free trial, where you can get started in minutes and cancel anytime.
How To Set Up An Account with Clio
Clio legal practice management software is an excellent tool for keeping track of client information, along with employee billing and project needs.
If you're considering getting started with Clio, there are a few simple steps to set up your account for your law firm.
Go to Clio's website and click "Sign Up" in the top-right corner of the screen.
Choose whether you want to start with a free trial or sign up for Clio Premium right away.
Enter your email address, password, and company name (if applicable). Fill out the remaining information according to what applies to you. For example, if you're signing up for a free trial, you're not required to fill out any other fields. For premium members, you will need to provide your payment information and other details. Then, click "Create Account."
You'll receive an automated message to verify your email address and account. You must complete the verification process before accessing the site. Clio will then take you to your dashboard, where you can start using the client portal!
Pros
Easy To Use Software
Clio's interface is very user-friendly and easy to navigate. Even if you're not tech-savvy, you'll find it easy to navigate through the software's features and menus.
Cloud storage
Clio offers cloud storage as an additional feature. This allows you to access your files from anywhere even if you don't have an internet connection and on any device, including your computer or mobile device. It also ensures that all your data remains secure. No one else will have access to it unless given permission by an account admin. 
Intuitive Legal Billing Software
Clio's billing software and tools are very intuitive and straightforward, which makes it easier for both attorneys and clients to understand payments and collections needs at any point in time during a case's lifecycle.
Cons
 No spam protection
If you use Clio to communicate and collaborate with clients or contacts outside your firm's network, there are no spam protections included in the software. It would be best to consider installing spam protection on your computer and mobile device before downloading Clio. This will provide ultimate safety and security, as Clio doesn't have built-in spam filtering capabilities.
Expensive For Small Businesses and Startups
With Clio's pricing structure, small businesses and startups may find the program packages expensive. Starter plans only include limited features and lack flexibility. For firms looking to streamline operations and capitalize on growth, it's worth investing in the premium packages.
Limited Integrations With Starter Plans 
For Starter plans, there aren't many integrations available other than Google Docs, Dropbox, and a few more basic applications. This means you'll have to manually download documents from your computer before uploading them into Clio's software platform. Such tasks can be extremely time-consuming and tedious.
Conclusion
Clio legal software is one of the best in the industry. It's easy to use, includes innovative features, and focuses on bringing advanced technology into a centuries-old profession.
Overall, this legal practice management system has helped to transform the legal experience for both law firms and clients. By focusing on digitizing the legal system, Clio has changed the way we engage with, deliver, and experience these services.