MyCase Review 2023: Law Practice Management Software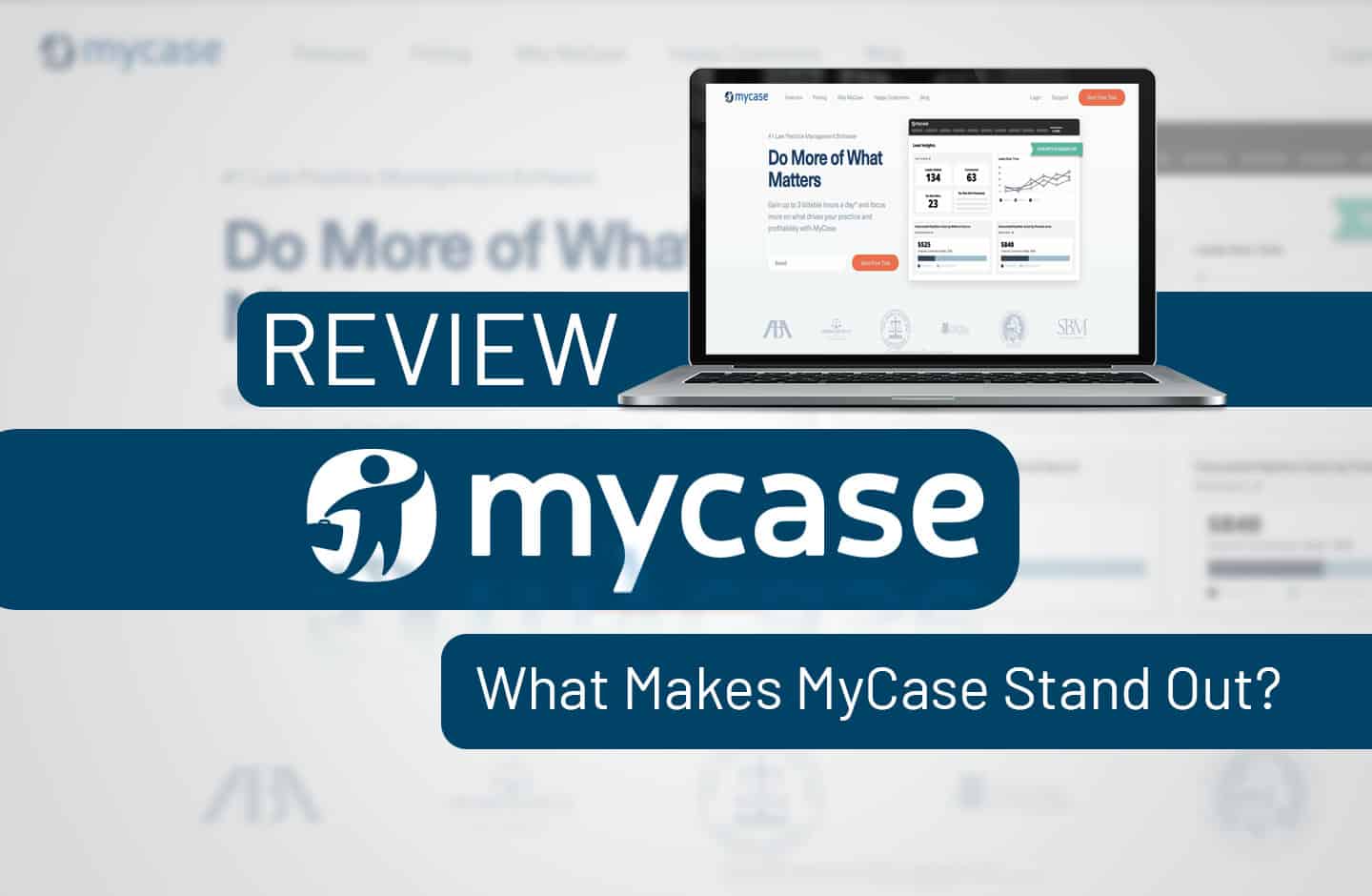 MyCase is a cloud-based legal software that helps small to medium-sized law firms manage communications and improve productivity across clients. The software is easy to use, affordable, and full-featured with impressive tools for client intake, lead management, billing and payments, etc.
MyCase helps to organize files, manage documents and improve workflow efficiency. You can create and manage cases, add documents, take notes, send messages to your clients, organize email and calendar events, and much more.
The company was founded in 2010 and now provides more than 500,000 users with powerful legal practice management software. If your law firm wants to run seamlessly from anywhere, track performance, and improve the client experience, check out our full review of MyCase below.
---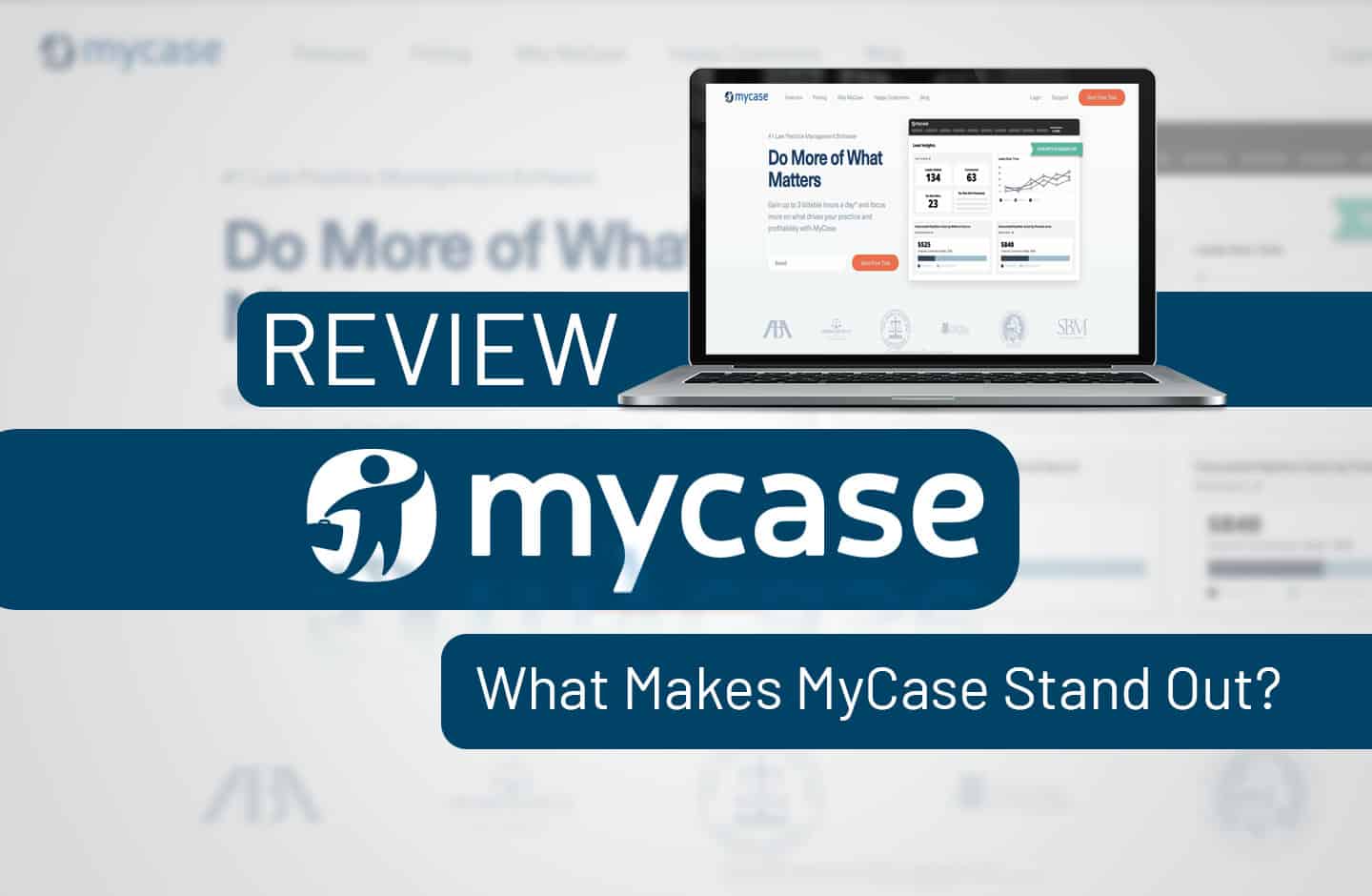 What Makes MyCase Stand Out?
MyCase software is designed to cover the entire client lifecycle with advanced Lead and Case Management, Invoicing, and Reporting tools. It improves efficiency, and internal operations, and allows law firms to keep all documents and communications between partners, associates, and clients in one centralized location. Further, the software automates your daily tasks, such as calendaring, time tracking, and billing.
As a result, MyCase has won several awards since the company first launched, including:
The Quality Choice Award

The Trusted Vendor Award

The Happiest User Award
These awards prove that MyCase fosters the quality, efficiency, and satisfaction you want in software.
Pros
User-friendly interface that helps legal teams work more effectively and efficiently

Cloud-based software that is compatible with most operating systems

Wide range of features including document management, email integration, calendaring, case management, reporting and analytics tools, and more
Cons
Limited client intake forms

Simple document management software

Lacks some key integrations
MyCase Features
With MyCase, you can manage your cases and clients with ease. The software provides case management, client portal, document management, workflow management, billing and invoicing and financial performance features all in one place.
Here are some of the main features MyCase offers:
Case Management
With MyCase's case management features, you can easily track client cases from intake through resolution, with options to assign tasks to specific attorneys or paralegals throughout the case lifecycle. 
Task Management
MyCase task management allows you to create tasks for your clients and/or cases, assign specific due dates, and set reminders so you don't miss any deadlines or forget about important tasks. You can also schedule deposition dates and court appearances, all while keeping track of relevant information in each case. The task management feature can be accessed through the left sidebar menu. All your outstanding tasks will be displayed in one place.
Contact Management
The contact management feature allows you to store all your client information in one place, so everything is easily accessible whenever needed. You can also store notes about each contact.
If you have any questions or concerns down the road, you will have everything automatically stored and accessible within seconds. You won't have to search through old emails and documents or worry about deleted files and email accounts.
Calendar Management
This feature helps to create events for yourself or others. It integrates with Google Calendar, Microsoft Calendar, and other applications. This way everyone is on the same page on any given day, week, month, or year.
Client Portal
The client portal allows you to store all client documents in one place and you can easily access them at any time. You can add as much information about each client as you want. There are also tools to keep track of billing, communication history, important dates, and more.
The MyCase client portal also allows you to assign tasks to multiple people on your team and monitor progress from anywhere in the world. You can set reminders for clients, like when something important needs their attention or when deadlines are approaching. This feature makes it possible for both teams and clients to stay on top of their workload.
Document Management
MyCase is a cloud-based software offering various document management features that help you to stay organized, manage your cases and documents, and increase overall productivity.
These features make it easy to find documents quickly, organize them into categories, and share important details with your team. Here are some key law practice management features for documents:
WoodPecker: Automated document production software that accurately fills out Word-focused legal documents, including fee agreements, discovery requests, and trusts and wills.

Keyword Search: You can search by any keyword or phrase in your MyCase database.

Automatic Tagging: MyCase automatically tags documents with metadata so you can easily see what type of document it is and the project's overall status.

Drag and Drop Uploading: The user interface allows you to drag and drop files and instantly upload them from your computer.

Calendar View: You can view all active cases in a calendar format to see when each case was opened or closed and what's next on the agenda for that specific case.

Built-In Messaging and Comments: Allows for easy collaboration with clients, other attorneys, and staff members. There are also document sharing capabilities and revision history tracking.
Customizable Workflows and Time Tracking
MyCase allows you to create a workflow for each stage of the legal process. Just like in real life, it's important to know the status and progress of each case. Using MyCase's workflow management features, you can streamline these efforts.
You can set up custom workflows for your law practice and unique triggers that set these workflows in motion. This will help to remove any redundant administrative tasks and automate recurring work, events, and deadlines.
MyCase enables you to track progress throughout each step of the process. These real-time updates live within an online dashboard that's accessible to all associated staff members. This way teams can ensure deadlines are assigned to the right person and completed at the right time.
Automations
The software also offers several automations that can help both small law firms and large-scale legal practices. For example, you can automatically generate case documents, eliminate manual data entry with electronic intake forms, and use rules-based calendaring that abides by a database of court rules for all 50 states.
3rd Party App Integrations
MyCase supports integration with several third-party applications like Microsoft Outlook, Google Calendar, Yahoo!, Mailchimp, Dropbox, QuickBooks, Docketwise, and many more. You can then easily manage and integrate all of your essential law practice and business tools.
Billing and Invoicing
MyCase also offers several billing and invoicing features. The MyCase billing feature allows users to generate invoices, track online payments made by clients, receive electronic payment receipts, create custom estimates, and process credit card payments through its integrated e-commerce system.
If you're using QuickBooks Online or Xero, MyCase will automatically sync with those platforms. This will help you keep track of your electronic payments and billings in one place. when clients pay by credit card, you will even get paid immediately.
This feature makes it easy for lawyers in a more traditional law office to generate bills in just a few clicks. There is no need for additional software or outdated equipment like printers or scanners.
Financial Performance Report
The Financial Performance Report feature offers specialized software that allows for easy management of the firm's income and expenses. The report displays performance across different time periods (e.g., year-to-date) as well as by individual cases.
This feature also provides you with the information needed to keep track of your firm's overall financial performance. You can use this data to analyze current trends in legal services, predict future costs, and determine how much money is coming in from different sources.
Financial performance reports can help you identify which clients are contributing to your income and which are causing you to lose money. This information can be used to adjust your strategy and keep the firm afloat during difficult times.
You can also use the Financial Performance Reports feature to view metrics on your firm's budgeting process. This can help you better understand how much money is spent on each case and what expenses are expected in the future. You can also see how long cases took to complete and how much they cost overall.
MyCase Review: User Benefits
MyCase is an excellent law practice management software for all law firm types and practice areas. This includes Criminal Defense, family law, immigration law, insurance defense, bankruptcy law, civil litigation, trust accounting and estate law, and general law practice.
The software is easy to use and integrates with various apps, so you can seamlessly incorporate MyCase into your existing workflow. The main benefits of MyCase include:
No Technical Expertise Required
MyCase is a cloud-based software that's designed specifically for legal professionals, not web developers and other technical-focused personnel. It was even created by a team of lawyers. You don't need to be a tech expert or have any special training to use MyCase.
It's a user-friendly platform that makes it easy for all team members to properly manage their work. This is especially helpful if you're trying to get the software up and running as quickly as possible.
Multi-User Platform
MyCase allows multiple users to access the platform from any computer or mobile device. This means that everyone can work together on projects efficiently and effectively.
Furthermore, every user can customize their own experience and workflow. Individual users can create unique tasks, events, triggers, and automations. This will help the entire law firm streamline operating accounts, stay on top of case deadlines, and keep clients informed.
Productive Collaboration Tools
With MyCase's collaboration tools, you can share documents and other important information with team members in real-time. You won't have to wait for updates from various departments before getting started on outstanding tasks.
Additionally, MyCase offers a built-in text messaging system to reach both clients and colleagues. These integrated text messages are sent directly within the MyCase desktop or mobile app. When all staff members can easily access relevant data and important information, the law firm as a whole operates more efficiently and productively.
These tools also make it easy for everyone involved in a project to communicate remotely, rather than with face-to-face meetings. This helps businesses avoid face-to-face interactions between various departments within a company and save money on travel expenses.
Easy-to-Use Mobile App
MyCase has an intuitive mobile app that is extremely user-friendly. The app enables you to access all case files and other important information while on the go. Everything app automatically updates across the entire database, whether working on your desktop or mobile device. You can also get real-time push notifications to ensure nothing is missed. The MyCase app is available on Android and iOS.
User-Friendly Interface
MyCase features a user interface that is simple and easy to use, yet still packed with premium features and advanced functionality. This makes it an ideal choice over less robust competitors. There isn't much of a learning curve and the training sessions should only take a couple of days before the entire law firm is onboarded.
MyCase Pricing and Plans
The price for MyCase legal practice software starts at $59 per month, which is pretty reasonable for small law firms and solo practitioners that want to keep costs down. Here is a further look at the different MyCase payment plans:
MyCase Basic Plan: $39/user/month
This plan includes basic cloud-based case and contact management tools, with end-to-end billing and online MyCase payments.
MyCase Pro Plan: $59/user/month
This plan provides all of the same features as the Basic plan, plus robust firm management and client intake forms, contact communication, and key integrations.
MyCase Pro Plan: $79/user/month
The Pro plan includes all MyCase features, plus MyCase Drive for document assembly, editing, and storage directly on your desktop.
Pros
No technical expertise required

Multi-user platform

Collective efficiency and productivity

Time-saving solution

Integrates easily with other apps

Mobile friendly
Cons
MyCase's pricing structure too expensive for their needs.
Conclusion
MyCase is a good fit for law firms looking for a full-featured, yet straightforward law practice management system. The software aims to improve project management, workflows, and internal communication.
With a sleek design and user-friendly interface, MyCase software can help firms across practice areas organize and optimize the office. That's why MyCase is an end-to-end legal case management software that's top-rated within the legal services industry.