Inc Authority Review 2023: All You Need to Know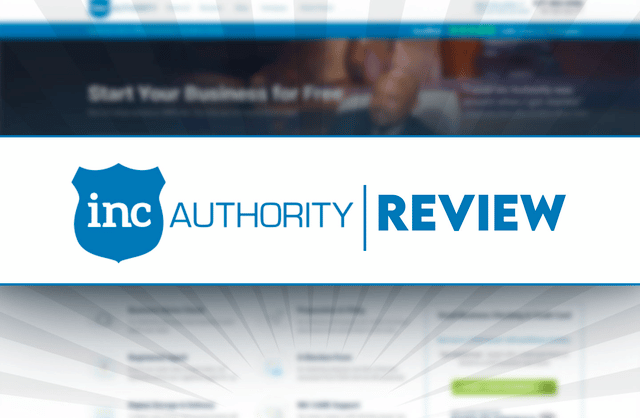 Forming a limited liability company (LLC) or corporation is no doubt a tedious process. You have to draft and file the legal requirements, designate a registered agent, pay state fees, and more. Essentially, the business formation process can quickly get overwhelming.
But forming a business doesn't have to be frustrating, intimidating, or expensive. Online services, such as Inc Authority, can help you start a business and stay on top of legal requirements and paperwork.
The best part? Inc Authority offers the option to form an LLC for free. As a business owner, you only have to worry about paying the state filing fee and Inc Authority will take care of the technical side of things. This online business formation service will handle the necessary paperwork for obtaining business licenses.
If you have your eyes set on starting a limited liability company or corporation, this Inc Authority review is for you. Continue reading to learn more about Inc Authority's services, features, pricing, and more.
---

Inc Authority is a full-service business formation company headquartered in Reno, Nevada. Founded in 1989, Inc Authority has helped form 250,000+ LLCs and corporations to date. Furthermore, close to 25,000 business entities consistently use Inc Authority throughout the United States each year.
Inc Authority strives to be a one-stop shop for all business startups. Besides LLC services, Inc Authority offers several other services. Most of these extra services aim to help with owning and running small businesses.
For example, Inc Authority's entry-level package offers free filing. You only pay state fees and Inc Authority will take care of the rest. Then, there are more premium services, like business credit and business banking tools. The premium packages also offer access to business license reporting software.
Like any other company, Inc Authority has its fair share of shortcomings. Let's take a look at the pros and cons of this service.
Inc Authority: The Good
Free LLC formation (excluding state fees)
The main benefit of Inc Authority is that its basic business formation service is free. While most competitors charge a one-time or annual fee to start an LLC or corporation, Inc Authority waives all service fees. The state filing fee is still on you, however.
One Full Year of Free Registered Agent Service
Inc Authority does not stop at free LLC formation services. For one full year, they will also serve as your registered agent for free. This means you can use them as the official recipient for your business's legal documents and paperwork. The service is renewable after one year for a small fee, but you can decide to cancel it at no extra cost.
Convenient Business Formation Process
Inc Authority makes incorporating a business as quick and easy as possible. Once you select your business entity type, you can complete the registration in a few easy steps. Inc Authority even offers express processing for an extra $49, where your order gets processed within 24 hours.
Superb Customer Service Team
Starting an LLC or corporation with Inc Authority is smooth and effortless, especially since the customer service team is responsive and provides support throughout the whole process. For inquiries, you can contact Inc Authority by phone, email, or through social media.
Outstanding Track Record of 30+ Years
Inc Authority has been offering its business formation service for over 30 years. The company boasts a longer track record than the vast majority of its rivals. Additionally, Inc Authority reviews are excellent for the most part. Most of Inc Authority's reviews praise the company's free services and helpful customer support.
Inc Authority: The Bad
Expensive Paid Packages
Inc Authority prices range from free to several hundred dollars. There is no middle ground. For example, the starter bundle costs a staggering $399. Yet, Zen Business and Rocket Lawyer offer the same services at a more affordable price. Rocket Lawyer's paid packages start from as low as $39, while Zen Business's start from $49.
Extra Costs for Obtaining EIN
An Employee Identification Number (EIN) helps with hiring employees and filing for taxes. While the Inc Authority basic package is free, you'll still pay for an EIN. You can get an EIN with Inc Authority for an extra $49. This service is optional.
Too Many Upsells
Inc Authority tends to push its customers toward signing up for the paid service options. Common paid services include Credit Bureau registration, business paperwork, and private consultation. While these aren't necessarily bad services, customers can find cheaper alternatives elsewhere.
No Refunds on One-Time Sales
Inc Authority offers no refunds for one-time LLC services, like individual filings with state authorities. The purchase is final after submitting your billing information and making a payment. Make sure you know what you're getting yourself into before buying any premium service.
Inc Authority Pricing
With Inc Authority, you can choose between free LLC services and premium paid services. Note that state filing fees apply no matter which package you choose.
Pros
Free LLC formation (excluding state fees)

One full year of free registered agent service

Convenient business formation process

Superb customer service team

Outstanding track record of 30+ years
Cons
Expensive paid packages

Extra costs for obtaining EIN

Too much up-sells

No refunds on one-time sales
---

Inc Authority's free option includes the following services:
Business name availability search:

The business name search feature lets you look up business names available in your state. The goal is to ensure that the name you choose for your business is yours alone. You can also check the website domain to make sure it's not already taken before filing.

Preparation and filing:

Inc Authority will help prepare all entity formation documents and files the documents with your appropriate Secretary of State.

Registered agent service:

A registered agent service is an official recipient of a business' legal documents. Inc Authority can serve as your registered agent for free for up to 12 months. After the first year, you can cancel the service or renew it for $99 per year.

Cloud-based storage and delivery of LLC documents:

Inc Authority will store all important business documents in a digital format. Digital storage of documents ensures you have easy access to them – anytime, anywhere.

Tax planning consultation:

LLCs have to follow several complex federal and state laws. Inc Authority's free service includes one hour of free legal or tax advice. A tax consultant can help you preserve more of your business' income.

Business funding analysis:

Inc Authority will check your LLCs eligibility for credit and funding. Business funding analysis aims to find funding solutions tailored to your business.
S-Election Form: If your LLC belongs in the S Corporation category, having the S-Election form is vital. S-Election document form 2553 is necessary for tax compliance purposes and Inc Authority will file this form with the IRS free of charge.
What Paid Packages Does Inc Authority Offer?
Besides the free LLC service, there are other Inc Authority paid packages offered for a small fee. These premium services provide specialized business formation resources and tools.
Inc Authority's paid LLC services include:
Starter Business Bundle
The Starter Business Bundle, also called the Intro Business Bundle, is Inc Authority's upgrade from the free LLC service. This bundle costs $399, plus state fees.
This Starter Business Bundle offers all services under the free LLC formation service, plus:
Business name availability verification:

Inc Authority will perform a thorough 5-point business name search. The goal is to confirm the availability of your chosen name.

Operating agreements:

An Operating Agreement is a key document that helps prove ownership of the business and outlines the company's structure. Inc Authority will draft a customized Operating Agreement for you.

IRS Tax ID Number:

You need an Employer Identification Number (EIN) to perform a lot of business tasks like hiring employees, filing taxes and opening a business bank account. You can file for an EIN on Inc Authority.

Deluxe record book and company seal:

Inc Authority will help you create a bespoke record book and a custom embossed seal.

Custom state filed articles:

Every state has a specific set of requirements to form a corporation. Inc Authority will create and submit the paperwork to your Secretary of State.

Initial meeting minutes and resolutions:

Inc Authority provides personalized templates to record initial meeting minutes and resolutions. You'll appreciate this service for state compliance purposes.

Ownership certificates:

Ownership certificates are a key requirement if you have other founders. Inc Authority will issue a certificate of ownership to each LLC owner.
Who Is the Inc Authority Starter Business Bundle For?
Inc Authority's Starter Business Bundle is a great launchpad for small businesses. Oftentimes startups do not require advanced services, such as business credits. You can make do with Operating Agreement drafting if you're looking to break new ground.
Furthermore, Inc Authority offers unlimited support on issues such as business licenses. This extra support gives you more leverage when establishing your business.
Fast Track Business Bundle
Inc Authority's Fast Track Business Bundle is an upgrade from the Starter Bundle. This bundle goes for $499. It offers everything in Starter, plus:
Inc Authority success advisor

Private banking specialist

Personalized business advice

Expedited (next business day) filings
Who Is the Inc Authority Fast Track Business Bundle For?
Inc Authority's Fast Track Business Bundle is suitable for established businesses. Access to personalized business advice, in particular, can help your business scale. You'll be able to find unique financial solutions and unlock new opportunities with this package.
Important: Inc Authority's website no longer features Tycoon and Executive Business Bundles. Call Inc Authority at +877-684-2836 to explore these exclusive business bundles.
What Additional Benefits Does Inc Authority Offer?
Inc Authority provides a host of other services for additional fees ranging between $10 and $200. You can purchase the following services in addition to the above-mentioned bundles:
Federal Trademark:

A trademark can help your customers identify your brand. Inc Authority will connect you with a trademark expert and help with the filling application.

Revocable Living Trust:

A Revocable Living Trust (RLT) helps with long-term financial planning so your assets won't go through the probate process when you pass. Inc Authority will help put together a practical RLT for you.

Website and Marketing:

Inc Authority has options to get a business website, custom-designed logo, and business cards.

Business Funding:

Looking for funds to support your business? You'll appreciate Inc Authority's BizFunding Express program. Inc Authority happens to have an endless network of financial providers so you can enjoy business credit options, like unsecured personal loans and credit cards.

Business Plans:

Inc Authority will research, write, and edit a plan that's tailored to your business. Your customized business plan will include an executive summary, mission, and vision statement. The company also provides a full financial plan and a one-on-one advisor.
Is Inc Authority Trustworthy?
Yes, Inc Authority is trustworthy. Inc Authority has been operating for over 30 years now. To date, this LLC formation service has helped form more than 250,000 LLCs and corporations.
Inc Authority's long tenure doesn't automatically translate to quality service. But, Inc Authority customer reviews seem to be positive reviews across the board. The LLC formation service has a respectable rating of 4.6/5 and 4.8/5 on Google and Trustpilot respectively.
Given the sheer amount of top reviews, there's no doubt Inc Authority is legitimate. The company has built an excellent track record over the years. Thus, you can form an LLC on Inc Authority with confidence.
Should You Choose Inc Authority for Your Business?
Inc Authority is a solid option for any small business or startup. Inc Authority offers a cost-effective way to form an LLC or corporation. You can leverage its LLC formation services and form your business free of charge. All you need to pay is your state fees.
This free LLC formation service even includes a free registered agent service. Similar providers will charge extra for this service. Inc Authority's registered agent service is free for the first year and you can renew or cancel at any time.
What's more, you can upgrade to Inc Authority's Starter Bundle if you want more features. You'll get add-ons like Federal Trademark, Business Plan, Website and Marketing, and more.
Still, be wary of Inc Authority's aggressive upsells. If you're someone on a budget, these add-ons can get expensive fast.
How to Use Inc Authority?
Inc Authority enables you to register a legal entity of your choice in a few easy steps. Follow the steps below to form an LLC using Inc Authority:
Step 1: Start for Free:

Go to the Inc Authority site and click on the tab that says "Start Now for Free". This will open the registration page.

Step 2: Select Your Entity Type and Filing State:

You can choose to form a Limited Liability Company (LLC) or an S-Corporation. Once you choose your entity type, select the state in which you want to register your business in.

Step 3: Fill in Your Personal Details:

In this step, you need to enter your personal details like your first and last name, email, and phone number. If you do not have a US phone number, you can buy one from DingTone. Download DingTone from Google play store and pay $4.99 for a US phone number. Then, enter the number, click save, and proceed to the next step.

Step 4: Fill in Your Business Details:

Next, you'll need to enter your business details. Provide your company name and a brief 1-2 sentence description of your business.

Step 5: Business Address:

Here, you need to provide a US address to complete the LLC formation process.

Step 6: Opt-in to Your Desired Service:

This step is all about choosing the services you want. You can pick add-ons like a website domain search and tax planning consultation or opt for a business license report.

Step 7: Make Your Payment:

Finally, provide your payment details to complete your purchase. You can pay the state fees (mandatory), EIN, Operating Agreement, and more. Inc Authority allows payment by either Debit/Credit Card or PayPal.
After that, you will have successfully registered your company using Inc Authority.
How Does Inc Authority Compare to others?
Below, we compare Inc Authority's business formation services against the competition.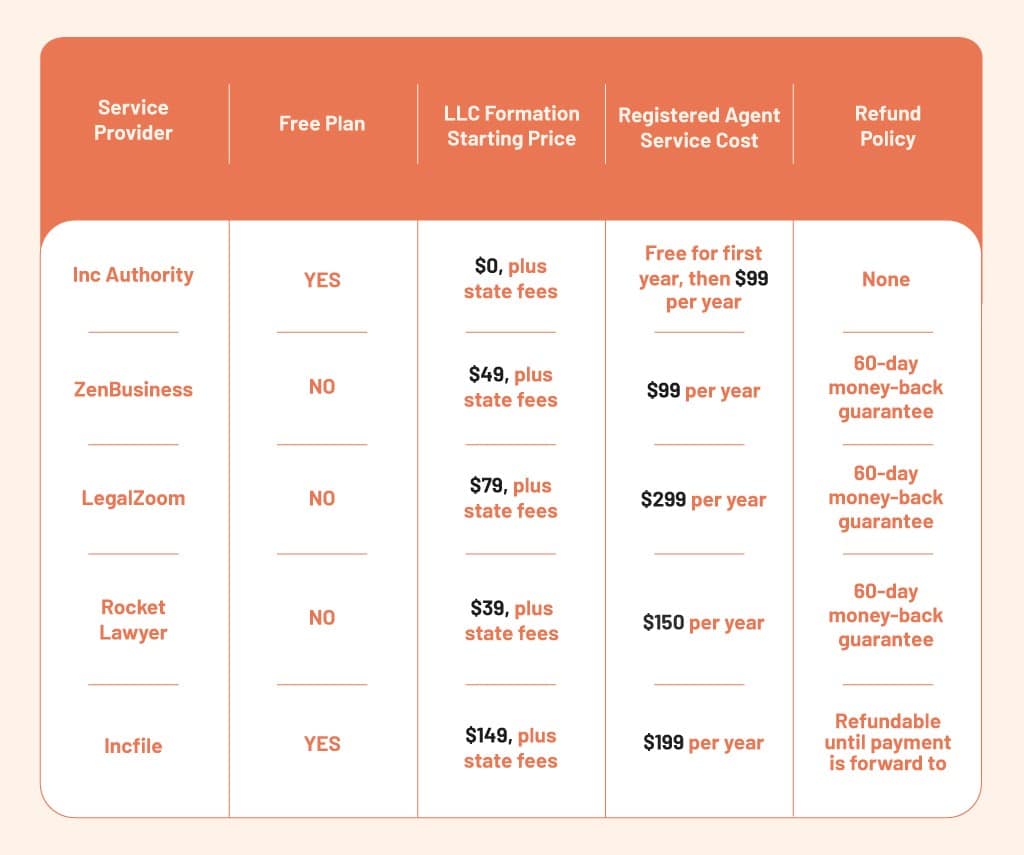 Inc Authority outshines most of its rivals on account of its free LLC formation packages. This free formation service is ideal for businesses seeking a budget-friendly formation. You might want to consider this package if you're in search of the lowest possible startup costs.
The fact that the basic bundle lacks an Operating Agreement is a notable shortcoming, however. You can buy the Operating Agreement separately for $89 and you'll have all you need for your formation or incorporation.
Additionally, Inc Authority's first paid LLC package costs a whopping $399. Surprisingly, many of its competitors offer cheaper options for starting a business. For example, Rocket Lawyer's paid packages cost as low as $39, and Zen Business's start at $49. These packages are also sound options for small business owners seeking affordable solutions.
While most of Inc Authority's paid packages are great, there are some unnecessary add-ons. These additional services can inflate the price tag, making the service expensive.
Still, the Operating Agreement tool is a valuable service, and so is the business license search. On the other hand, the EIN paid service is unnecessary because you can file yours for free directly through the IRS. The same applies to web domains and web hosting services because you can find a more affordable option.
Further, Inc Authority is hellbent on promoting third-party services. There are many potential third-party upsells, including the multi-tiered credit building. These services bring little to no value to a business, especially a startup.
Generally speaking though, Inc Authority stacks up well against the competition. Its free and paid business formation services are reputable and trustworthy.
FAQ
How Can You Cancel Inc Authority Services?
You can cancel Inc Authority's ongoing services by calling 877-684-2836. Inc Authority allows for cancellations within 14 days of purchasing. But, you will only receive a full refund if you cancel within that 14-day window.
Do I Need A Registered Agent To Form an LLC?
You are legally required to name a registered agent when forming an LLC or corporation. A registered agent can be a person or a third-party service. The role of this person or service is to receive documents and paperwork on behalf of the business. You need registered agent services to handle subpoenas, tax notices, and legal correspondence.
Does Inc Authority Have a Refund Policy?
Unfortunately, Inc Authority does not offer refunds for one-time services. Individual filings with state authorities, for example, are not refundable. For ongoing offers, refunds are available within 14 days of purchase. Make sure you know which recurring services you're signed up for so you can cancel and get a refund if needed.
What to Choose: LLC or Sole Proprietor?
A sole proprietorship structure positions you as the only business owner. Due to the minimal costs, sole proprietorship appeals to new entrepreneurs. However, sole proprietorship offers no legal protection for personal assets. You may end up personally bankrupt if your business hits a roadblock.
LLCs, on the other hand, don't consider personal liability for business debts. In the event of bankruptcy, your personal assets remain protected from possible loss. Therefore, an LLC positions your business for future growth. You might want to consult a business lawyer before choosing either business structure.
Conclusion
In summary, Inc Authority is an industry leader in the business formation space. For starters, Inc Authority provides you the option to form an LLC or corporation free of charge. You only pay your state fees and leave the nitty-gritty to your LLC formation service.
And it doesn't stop there. Inc Authority will act as your registered service agent for the first year free of charge. Plus, you can leverage professional expert consultants to scale your business even further.
Of course, you have the option to upgrade to premium paid services. However, many of these add-ons are unnecessary during the initial stages of LLC formation. Plus, opting for these extras can get expensive.
When starting out, Inc Authority's basic LLC formation services should be enough. You can form an LLC or corporation from the ground up, all without incurring exorbitant costs. Therefore, Inc Authority is absolutely the best free LLC service out there.
Hopefully, this IncAuthority review has shed some light on everything you needed to know about the business formation process. Now you can go ahead and make an informed decision.