Thomson Reuters Westlaw Review for 2023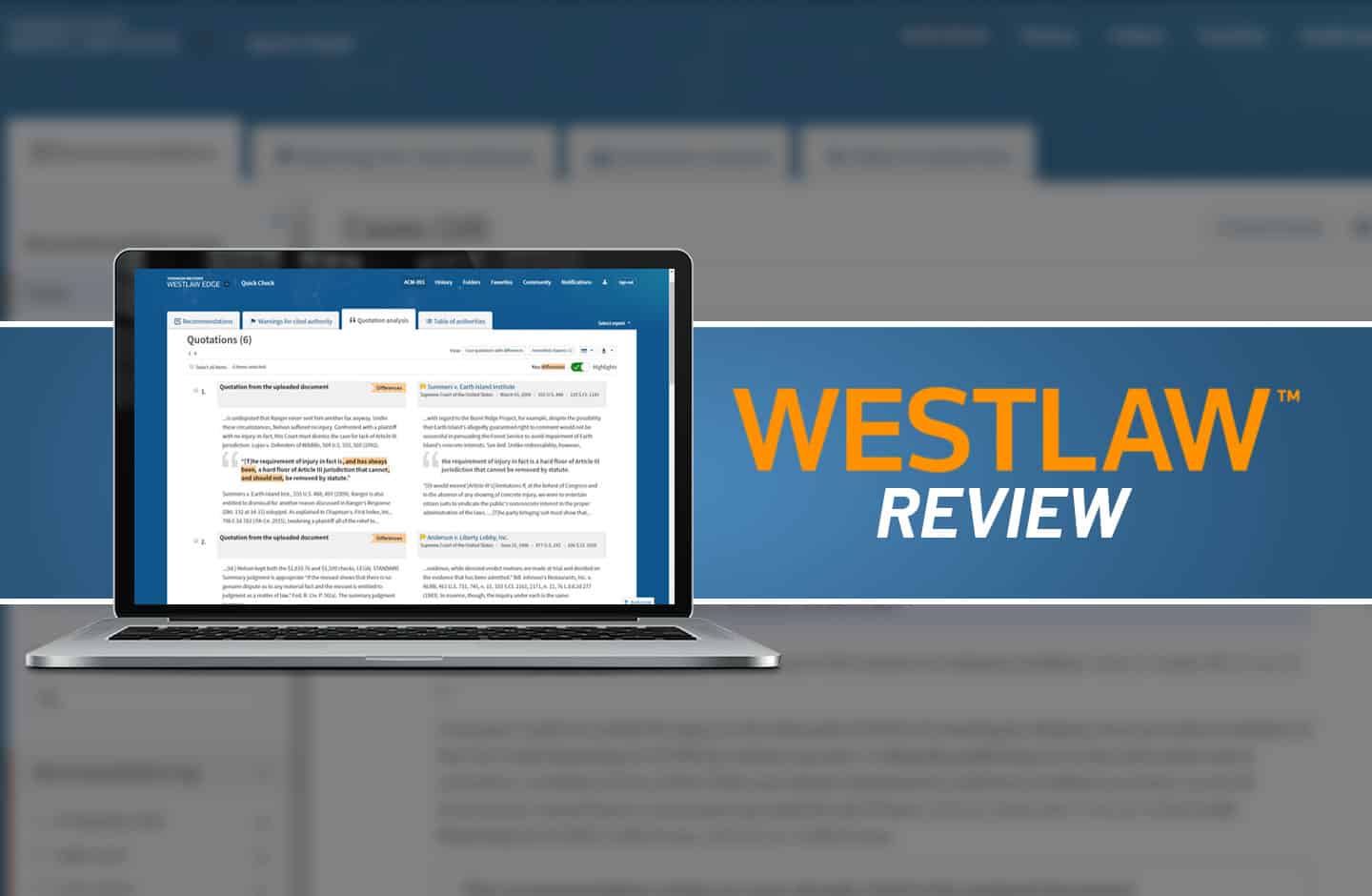 Westlaw is a legal research software and proprietary database company developed by Thomson Reuters. It provides online legal information and services for law firms, students, and other legal professionals.
This law review software features robust research and legal technology software that allows you to research and conduct legal analysis. It's available in over 60 countries and includes more than 40,000 databases of case law, state and federal statutes, administrative codes, public records, law reviews, and other information resources.
Westlaw helps to streamline legal research, provide legal guidance, and simplify litigation. Legal professionals across various practices can find practical solutions faster and deliver high-quality legal services to their clients regularly.
---

What Does Westlaw Do?
Westlaw is an AI-powdered law review software and research. The platform provides legal professionals access to a wide range of legal resources and a proprietary database of case law, statutes, treatises, and other secondary sources from Thomson Reuters.
Thomson Reuters's Westlaw combines trusted data with sophisticated search technology to deliver unparalleled accuracy, insight, and efficiency. The platform offer trusted content and editorial enhancements relied on by generations of legal professionals.
Westlaw also offers an online reference service, Westlaw Edge, which includes an advanced AI-driven search engine, legal research analytics tools, intelligent document analysis, integrated litigation analytics, and more. This is a must-have tool for professionals conducting legal research.
Westlaw User Interface
The law review software and research platform is both user-friendly and highly insightful when searching for legal documents, legislation, and case laws. The interface is intuitive and ideal for both beginners and experienced users.
You can tap into the database anywhere, anytime. If you need comprehensive legal research on the go, the database is both thorough and easily accessible.
With an intuitive interface, the user experience is seamless, even for people who aren't familiar with legal research software. The search bar at the top of the law review platform makes it easy to start your project quickly and efficiently, even if you are fresh from law school.
Key Features
This law review software includes tons of features, tools, and added benefits. These key features include:
Searchable Database
Thomson Reuters Westlaw is a go-to resource for searchable legal content. With over 600 million cases and documents within the law review platform's database, you can be sure to find fast answers and valuable insights. You can search through millions of documents within minutes, including cases, statutes, regulations, news articles, etc.
The database includes both current and old cases, which are searchable by state! This makes it great for anyone who needs to look up case law from a particular state or reference federal jurisdiction across the country.
Integration
Westlaw integrates with various 3rd party applications and cloud services, like Dropbox and Google Drive. This helps law firms upload important files and document onto the platform, without worrying about the back and forth when using each platform independently.
Keyword Query Suggestions
Query suggestions are helpful when you're just using the Westlaw law review app. They help you narrow down your search by suggesting keywords you may not have thought about when looking up certain law reviews or statutes.
This law review search tab makes it easier to find exactly what you're looking for. You no longer have to scroll through endless results pages because of a one-word misspelling in your query.
Additionally, the machine learning technology applied during these suggestions learns from previous searches to make better recommendations based on your search history.
Tracker Tool
Another great feature of this law review app is the Westlaw citation tracker tool. You can see the number of citations made by other courts or attorneys in a particular case. This could help you determine if other cases have similar themes, arguments, or strategies.
Data Visualization
Westlaw's law review software allows corporate law firms and others to view data in several different ways, with options to create graphs, tables, and charts. This makes it easy to present your findings in an engaging way and get your point across effectively when presenting or arguing before a judge or jury.
The law review software also offers an array of visualizations that let you see patterns and trends in your case law research from an entirely new perspective. You can see things like case citations and jurisdictions by year or compare multiple cases on the same topic side-by-side for easy analysis.
You can then take advantage of all the data available without having to do any manual digging through documents. It also makes it easier for your clients and other stakeholders to understand what's going on in the case.
Brief Analytics
The brief analytics tool allows you to view statistics about brief submissions in specific courts or jurisdictions. This way, you can see how often brief filings occur in state courts or jurisdictions over time.
This tool helps attorneys decide where they should file their briefs based on past trends in those courts or jurisdictions. When briefs are filed at a court or jurisdiction's clerk's office, it may affect future outcomes.
AI/Machine Learning Technology
Another key feature of Westlaw is the Machine Learning Law Review tool, which uses artificial intelligence to help a law firm find what they're looking for faster and easier.
This AI-based law review technology allows users to search through millions of documents quickly and find relevant information more efficiently.
For example, if you search for "sales tax" and then "environmental policy," Westlaw will suggest related search results and law review topics linked to each other.
Statutes Research
The statutes research tool lets you look up different statutes across all 50 states in one dedicated place. When searching for a statute by keyword or number, the platform will give you the option of seeing all relevant cases that mention this statute, even if it's cited directly. With this research tool, it's easy to find recent court decisions without having to do any additional research yourself.
Customizable Searches
Westlaw law review offers many different ways for users to customize their searches. For example, users can choose whether they want results displayed by relevance ranking (the default setting), date (from oldest to newest and vice versa), or most recent updates. Users can also choose whether they want law reviews displayed chronologically or alphabetically.
Case Summaries
The most significant selling point of the Westlaw law review is its case summaries tool. When you search for a specific case, you can get a brief overview of what happened, the parties involved in the case, what the outcome was, and what issues were at play.
This makes law review research easier and saves you time and effort from otherwise reading through entire court documents. This feature is ideal for law firms of all sizes and practices.
Boolean Search
One differentiator of this legal research software is that it allows users to perform Boolean searches with the Westlaw Edge package. You can search using a plain language query or Boolean terms and connectors to quickly find the underlying relevancy for hundreds of thousands of legal topics. This means you will save time digging through results lists and can complete your research with confidence.
Natural Language Search
The natural language search tool allows you to search for words in their practical form. For example, you can type in questions or phrases instead of just keywords. The results will be based on the meaning rather than its spelling. This makes it easier to find what you want because it doesn't require any special syntax or punctuation as other search engines do.
For example, if you want to know how many times "obstruction" appear in a case law within the last five years, then type "how often does obstruction show up in case law?" into your query box. The software will give you exactly what you're looking for without having to do any additional work yourself.
Citation Checking
When conducting legal research for your firm, citations are essential. They give more information about where your data came from and make the document more legitimate. Westlaw law review has built-in citation checking functionality that allows users to check sources quickly without needing third-party software, like Endnote or Zotero.
Citation checking also allows you to see if your law review sources are reliable or not. You can check for errors like spelling, punctuation, and formatting. You can also view information about the publisher of your source and the date of publication. This will help you decide if it is credible or not.
Change Tracking
With Thomson Reuters Westlaw's change tracking feature, you can keep tabs on changes in case law. This is an excellent tool for attorneys who want to stay up-to-date with law reviews or for students who need to see how cases have changed over time.
Change tracking also allows you to compare documents side-by-side so that you can see changes made by all stakeholders involved in the case. It even allows you to highlight specific words within those documents so that you can quickly scan through them without having to read every detail.
Annotations
Westlaw's annotations feature allows users to make notes and leave comments on law reviews they're viewing. This can be useful when you want to highlight something important or make comments about what you're reading without copying and pasting it into another application, like Word or Google Docs.
Filtering
Filtering allows you to narrow down what comes up in your search results by filtering certain terms. For example, if you're searching for cases related to "immigration", but there are other words like "refugee" or "legal status" that are present throughout the documents, filtering will allow you to narrow down results based on specific search terms.
Case Alerts
With Case Alerts, you can set up alerts for specific updates, terms, outcomes, etc. You'll get an email notification once a new item that matches your search criteria becomes available in Westlaw software. This makes it easy to keep up with important cases or legislation as they come out.
Users can also create alerts based on their workload, so they don't have to worry about missing important deadlines or other events in the future.
Pricing
Westlaw law review is one of the best legal research software in the industry. Law firms and lawyers use it to quickly find relevant law review queries, case law, and statutes.
The online legal research platform also provides a multitude of different subscriptions you can buy. Westlaw has three different tiers of pricing: Basic, Expanded, and State Plan.
Basic Plan (Westlaw Essentials for 1-6 Attorney Firms): $69.00 per month: Includes all the core features you need to research your cases and manage your practice.
Expanded Plan (Westlaw Plus for 1-6 Attorney Firms): $156.00 per month: This subscription plan will give you access to all basic features and some other tools in Westlaw's arsenal—including Lexis Advance, Shepard's, and Practice Advisor—at an affordable price point for corporate law practice.
State Plan (Westlaw for Government): $180.00 per month: This plan provides state-specific resources for attorneys serving government clients throughout the United States, including access to all federal court dockets in one simple search.
Free Trial and Discounts
Westlaw law review offers a free trial period, so you can try it out before committing yourself financially. If you think it would be helpful for your practice, you can go ahead and subscribe. After your trial period ends, your credit card will automatically renew unless you cancel the service beforehand. You can always cancel before your free plan lapses by visiting the website or by calling customer service.
The law review app also offers discounts on its subscription plans based on how long you want to use it and how many searches you need to conduct per day.
How to Set Up an Account
To set up an account with Westlaw law review, you must first create a profile on the website. To do this, follow these simple steps:
Click on the "sign-in" button at the top right corner of the page.
This will take you to the Westlaw account registration page, where you can fill out your name and email address and choose a password for your account.
After entering this information into the appropriate fields, click "Create my account" at the bottom of the form to proceed with the sign up process. This is where you can choose to get a free trial account with Westlaw software.
Your free trial will last for seven days. Once your free trial has expired, you can choose to purchase an extended subscription plan on your account settings page. Otherwise, you will no longer be able to access any saved documents.
Pros
Easy to Use Law Review Software
Thomson Reuters Westlaw has a simple user interface that's very easy to learn, especially if you've used another online database or citation-tracking software before. The product features an intuitive user interface with easy-to-use tools. You can quickly find what you're looking for without needing any training beforehand (although there are tutorials available if needed).
Robust Database
Westlaw comes with plenty of helpful features, including a comprehensive database containing hundreds of law review sources that cover different areas of law, such as Criminal Law, Aviation Law, Environmental Law, etc. You can search by jurisdiction or topic, which makes it easy to find information about different areas of law (e.g., criminal law, family law) and how they're handled in other states or jurisdictions. This helps to eliminate exhaustive legal research across various journals, articles, and other resources.
Quality Law Review Solution
The law review software is ideal for both smaller law firms and large-scale practices that need a comprehensive database with a comprehensive legal research tool. Westlaw has highly accurate results and a robust database that includes both state and federal case law.
Cons
It's Expensive
While Westlaw law review offers discounts to law school students, they still charge more than other legal research software providers. The software charges a subscription fee, with the cost varying depending on which plan you choose. For example, LexisNexis charges $39 per month for online access to its database compared to Westlaw's $199 per month for unlimited access to its database.
Some Learning Curve
If you haven't used a legal services software before, it might take some time to get used to Westlaw's functions and features. You will need to spend some time learning how to use this law review software before reaching full proficiency with its features.
Long Load Times
With so many different databases, resources, and sources of information, users may experience long loading times when requesting a large document or file.
Conclusion
As far as legal research software goes, Westlaw law review is an excellent option. It offers an intuitive interface, an accurate search engine, a database of secondary sources, and plenty of AI-powered features and tools.
Westlaw is suitable for law firms and organizations of all sizes, helping to streamline tedious tasks and maintain efficiency throughout the process. If you're looking for a powerful yet easy-to-use legal research tool, Westlaw is an excellent choice.
Frequently Asked Questions
What Is Westlaw Legal Research Software?
Westlaw is an online legal research platform that gives you access to more than 1 million citations and over 80 million pages of law review content. The software's extensive suite of products and services include:
Legal research and guidance
Trial preparation, procedure, and case management
Drafting software, services, and guidance
Investigation, fraud, and risk
Corporate and business organization
What Is Westlaw Edge?
Westlaw Edge provides valuable insights and key data points that help legal professionals respond quickly to clients with accurate answers. This solution is an add-on to the Westlaw Classic version, offering additional features and tools. For example, users can get predictive research suggestions when searching with natural language terms and identify gaps in legal documents with AI-enhanced reports.
Who Should Be Using Westlaw Legal Research Software?
The platform is ideal for all legal organizations – including small law firms, midsize and large law firms, general counsel, and government legal services. With industry-leading products and insightful content, users can practice with more efficiency and accuracy and strengthen client services.
Additionally, all personnel within the practice and legal professionals will benefit from using the Westlaw law review app. This includes lawyers and paralegals, judges, and law students. It's also great for anyone who wants to learn more about law practice.
What Is the Best Feature of the Westlaw Legal Research Software?
One distinguishing feature is the Westlaw search engine. Users can search for specific cases across different databases and competitor databases, such as LexisNexis, Bloomberg Law, and Fast Case. The law review software even filters through different sources, such as case law, statutes, regulations, administrative decisions, and journals. This advanced search engine makes it easy to find relevant information on your case.
Another interesting feature is the intelligent document analysis tool, which helps legal teams compare multiple filings, run checks on final drafts, identify weaknesses in opponent documents, and more.