Published : August 02,2022
Instant Checkmate Background Check Service Review in 2023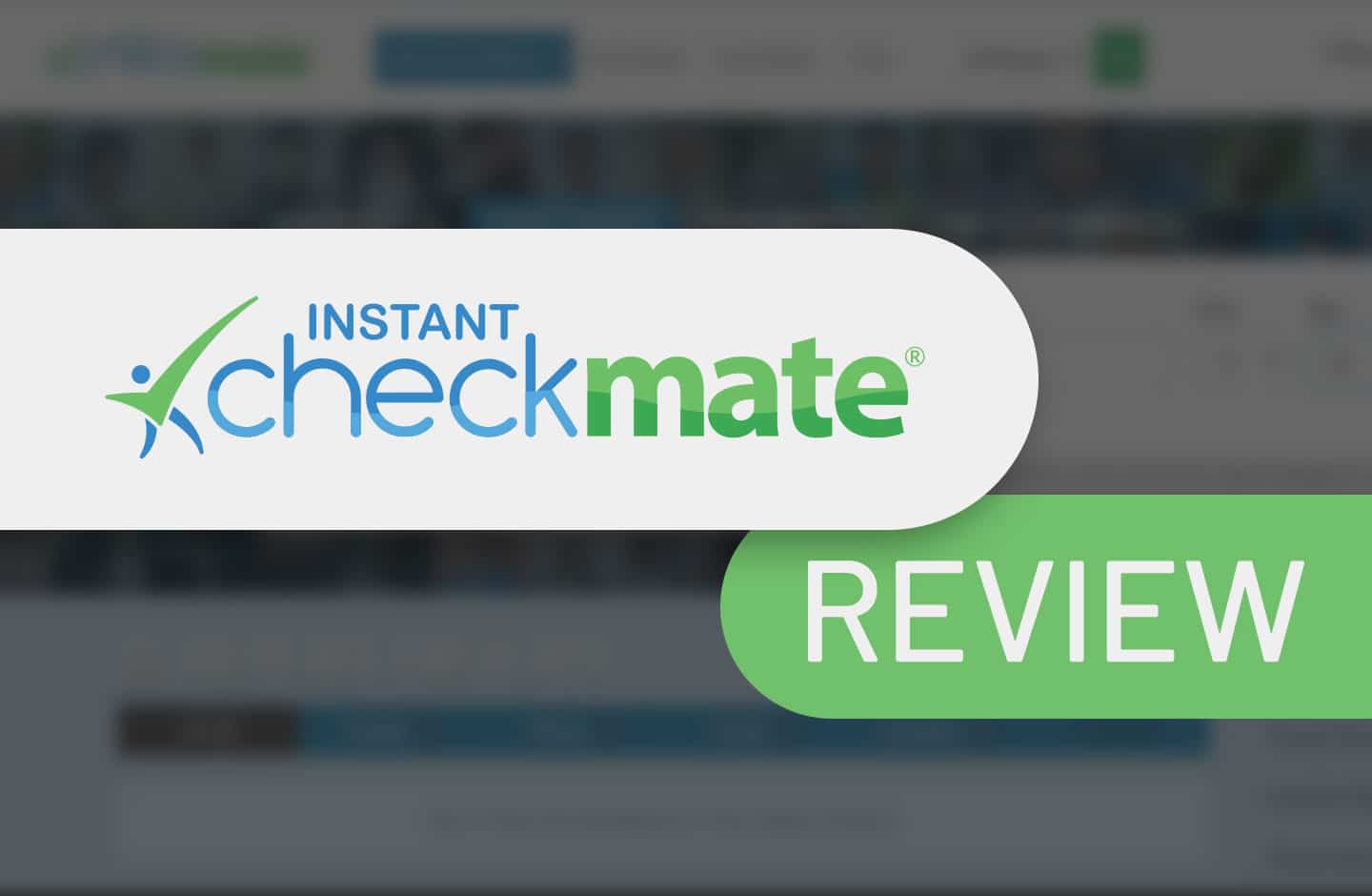 Published : August 02,2022
Online background check services and people search engines are becoming increasingly popular. Visiting federal and government offices and searching through public records in person is a tedious way of getting background information on an individual. Using a background check service like Instant Checkmate is much more efficient.
Instant Checkmate is one of the leading public records search service tools. Many background check companies offer similar services, but Instant Checkmate offers unique benefits that make it different from the rest. The platform provides quick and easy access to millions of documents and gives you the power to get a background check instantly.
Continue reading for a detailed Instant Checkmate review:
---

Overview and Background of Instant Checkmate
Instant Checkmate is a leading background check service that people can use to find information on others. The company launched in 2010 and has been a helpful search tool for many people ever since.
The site offers extensive access to public records across the United States. This includes phone numbers, email addresses, criminal records, arrest records, social media profiles, and much more. Instant Checkmate makes it easier for you to find all this information in a single, simple search.
An important thing to note is that Instant Checkmate is not considered a Consumer Reporting Agency under the Fair Credit Reporting Act (FCRA). This means that any information provided by this background check service cannot be used to make decisions surrounding credit, employment, or tenant screening. Instant Checkmate can only be used for your own personal curiosity.
Instant Checkmate Key Features
Instant Checkmate has many impressive features that make it worth your while, including:
Detailed Background Checks
According to Instant Checkmate reviews, the background check service provides accurate, helpful, and detailed reports. Even though the background check reports take some time to fully load, it is worth the wait.
Here is some of the information you can get from an Instant Checkmate background check:
Full name and any known aliases

Date of birth

Ethnicity and religion

Political affiliations

Past and current addresses

Phone numbers and email addresses

Criminal records

Financial details like rental properties, cars, mortgages, property tax, etc.

Personal relationships such as marriages, divorces, business relations, friends, acquaintances, and more
Instant Checkmate People Search Tool
Instant Checkmate offers an extensive public records search service that makes it easy to find people. This site can help you reunite with old friends, associates, acquaintances, and more. It can also help you to learn more about a new person in your life.
To use the tool, simply enter the person's name and general location if you have it, like a state, city, or any past addresses. This helps to narrow the search so you can find exactly who you are looking for. Instant Checkmate will then present a bunch of potential subjects, related individuals, and verified matched names.
Every people search is completely anonymous. The person will not be notified of the search. The Instant Checkmate people search tool simply looks up publicly available information about the individual.
The people search should only take a few minutes. Instant Checkmate people search reports could include aliases, education and employment history, location history, criminal records, possible relatives, social media accounts, bankruptcies, and more.
Social Media Check
Social media can give great insight into a person's life – between the content, likes, and interactions with others. However, asking someone about their social accounts can sometimes be an awkward conversation.
Instant Checkmate can help you find someone else's social media profiles and will even do a deep dive into the accounts. You can even use this tool to find someone's dating profiles, contact information, videos, browsing history, and forgotten/deleted social media accounts.
Criminal Records Search
Many people are not forthcoming about their criminal history or criminal offenses they are guilty of committing. Thanks to Instant Checkmate, you can find out this information all on your own. You can check if anyone has a history of violence, arrest records, and more.
The site has a comprehensive criminal record database and provides information on felonies, arrest warrants, lawsuits, misdemeanors, traffic arrests, and DUIs.
You can even get further details on a specific crime, including the description of the crime, the crime category, the date of the offense, and the court the person was tried in. Sometimes, you can also learn the location of the crime and the time of the arrest.
Sex Offender Database
Instant Checkmate has an extensive sex offender database. This is more than just a simple search tool. It can identify sex offenders within a certain vicinity, so everyone can feel safe in the area they live.
This feature not only allows you to view all the registered sex offenders in your area, but it also gives you their names and any available images.
Relatives and Related Persons Search Tool
Instant Checkmate helps you find information on possible relatives and other people the individual may share close relations with. This includes parents, siblings, possible spouses or ex-spouses, grandparents, extended family members, friends, and even co-workers.
You may even find online relationships and a dating history overview in the report.
Reverse Phone Lookup Service
Unknown numbers that are constantly calling you can get super annoying. Luckily, you can find out the owner of a number with Instant Checkmate.
The Instant Checkmate reverse phone lookup service enables you to enter the unknown number into the search bar and learn more about the mystery caller.
The site checks all available databases to give you a full breakdown of the caller, including the person's name, aliases, and potential addresses.
You can use this feature to determine if the caller is a scammer. Many scammers have taken extreme measures to try and dupe people into giving up their personal data. Do not be a victim to this type of fraud and use Instant Checkmate to cross-check unknown phone calls before offering up any information about yourself.
Instant Checkmate Mobile App
Instant Checkmate has a mobile app that makes it easier to do background checks and other verifications on the go. For example, you can get a background check on someone in real-time.
The mobile app is more convenient and very easy to use. All the features found on the desktop version are also available on the mobile app. Because of this, most Instant Checkmate users give the app 5-star ratings.
Nationwide Inmate Search
Sometimes people get arrested by the police and they have no way of notifying their loved ones. If you are worried that someone you know may be in jail, you can find out using the Instant Checkmate nationwide inmate search tool.
Instant Checkmate performs a basic nationwide inmate search to help you find out whether someone has been arrested.
Plus, you do not need an inmate identification number to get this information. All you need is the individual's name and last known location. Then Instant Checkmate can tell you where and when the person will be released.
Dark Web Scan
Instant Checkmate provides dark web scans on its website. The scan will check the dark web to see if any of your information is being sold on the internet.
If your personal data is compromised, it will show up among lists of stolen data and you can take the necessary next steps to address the breach.
How To Set Up an Account
Here are the simple steps to create an account with Instant Checkmate;
Enter the name of the person you want to learn more about.
Enter their general location, i.e., city, State. last known address
You will receive a list of potential matches.
Select the subject of your search and click open report.
You will be prompted to provide some additional information about yourself. Enter your name and email address. This information will help you sign in to your account after you purchase a membership plan. Your email address will be your username.
Select the membership plan you wish to purchase. You can choose the monthly membership plan or the quarterly one.
Enter your payment details and checkout.
Voila! You have your Instant Checkmate account.
Pros
User-friendly and intuitive interface

Provides extensive background checks and people searches

Expansive criminal records search

5-day free trial offer available

Mobile app that's compatible with both iOS and Android devices

Great customer care support and several positive Instant Checkmate reviews

Clear explanations of how you can use the information provided
Cons
Instant checkmate reports take a long time to load

You cannot purchase individual reports

Bonus features cost extra money

Expensive membership plans

Not considered a Consumer Reporting Agency under the Fair Credit Reporting Act
Pricing
Instant Checkmate is slightly pricier compared to some other background check services.
The Instant Checkmate subscription model offers two main subscription plans to members: one-month and three-month options. When you become a member, you'll get unlimited reports for standard background searches from Instant Checkmate.
The one-month membership plan costs $34.78 per month and the three-month membership costs $83.47. The monthly subscription is charged every 30 days and the three-month subscription after 90 days.
Reverse phone lookup services are charged separately. This add-on feature costs $4.99 per search. Other extra features, like downloading PDF copies of reports, will cost you an additional $2.99 per download.
Unlike most background check services, Instant Checkmate offers a five-day free trial. This allows you to use all the services available on the site for free. After the 5 days are up, you will need to start paying.
You will automatically be charged if you fail to cancel before the free trial expires. Membership plans automatically renew every 30 or 90 days (depending on your plan).
Instant Checkmate Customer Support
Instant Checkmate has a solid customer service team available by phone and email. You can also reach representatives through social media accounts like Twitter and Facebook.
The site has multiple numbers for different inquiries. This helps to reduce wait times. You can find these numbers on their official website alongside their service hours.
Frequently Asked Questions
Is Instant Checkmate legitimate?
Instant Checkmate is legitimate and safe to use. However, the information found on this site can only be used for personal reasons. It is illegal to use information from this site to screen tenants, hire employees, and provide consumer credit services or insurance. This is because Instant Checkmate is not an accredited consumer reporting agency.
Is there an Instant Checkmate free trial?
Yes, Instant Checkmate offers a 5-day free trial for new users. If you do not cancel your subscription after the trial period has ended, you will be automatically charged.
How much does Instant Checkmate cost?
Instant Checkmate offers two plans: a monthly subscription and a quarterly subscription. The monthly subscription costs $34.78 and the quarterly subscription costs $28.09 per month. This means you will save about $7 with the quarterly plan.
Additional features are charged separately. A reverse phone lookup costs $4.99 and PDF downloads cost $2.99 per report.
Does Instant Checkmate notify the person?
No, Instant Checkmate does not notify the person you're searching for. Everything you do on the site is completely anonymous and any personal information you provide is secure.
Where does Instant Checkmate get its information?
Instant Checkmate gets its information by scanning all public records available online. This includes government files, criminal records data, registration files, sex offender lists, census data, and much more.
Access to these records is legally protected under the Freedom of Information Act.
How do I remove my information from Instant Checkmate?
Removing your information from InstantCheckmate is easy. Once you have an account, enter your name and location. Search for your name on the list provided and select 'remove this record' to delete your report. You will then receive an email verification to confirm the information has been deleted.
Keep in mind that deleting your report from Instant Checkmate only removes it from the site but not from all public records. The data still exists online.
Conclusion
Instant Checkmate is one of the best background check service providers you can find online. It helps you to get instant information through its people search features, criminal records search, and more.
If you're looking for a comprehensive background checker with accurate information and unlimited reports, Instant Checkmate is worth exploring.