Zola Suite Law Practice Management Software Review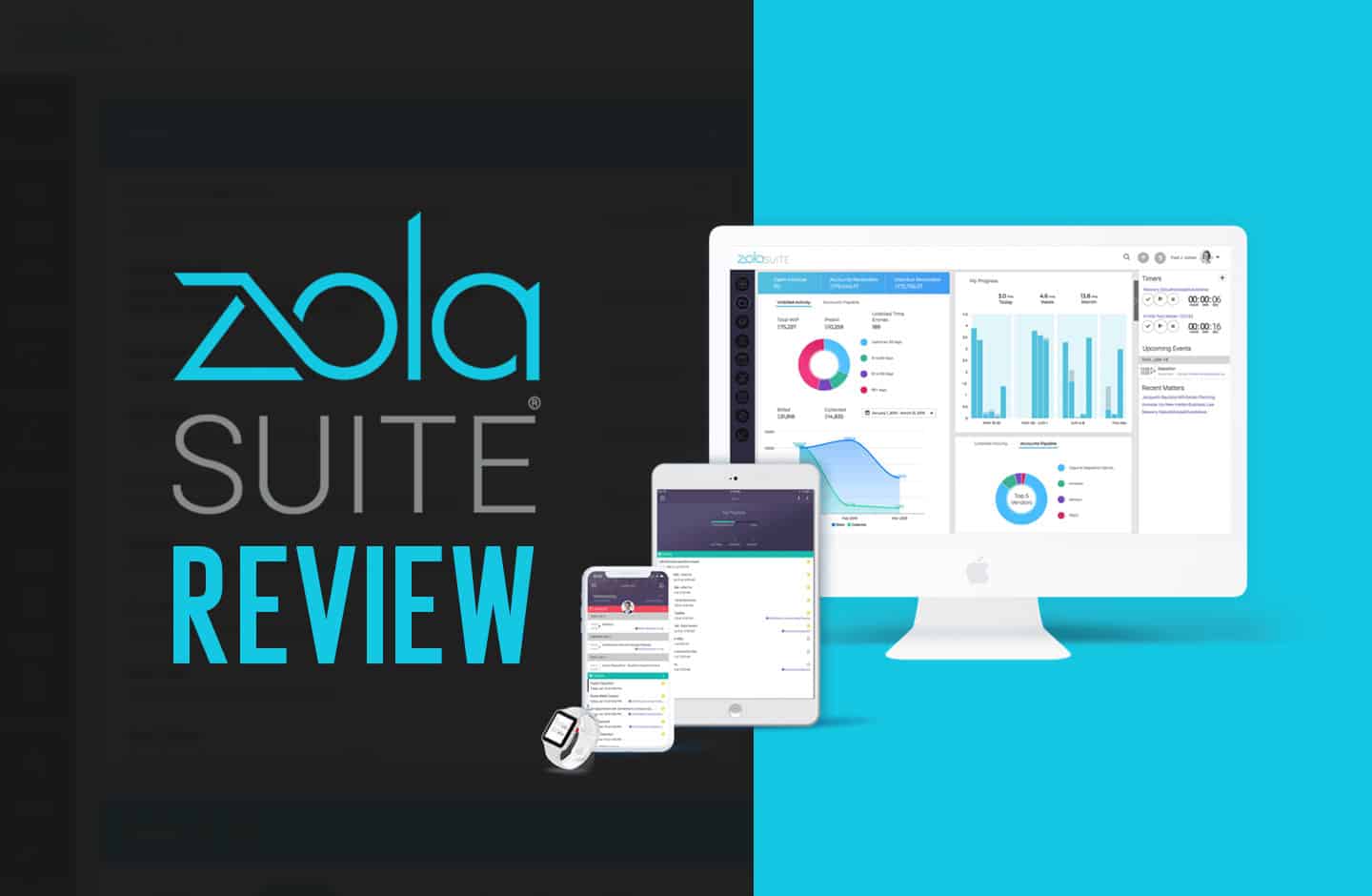 Zola Suite is a cloud-based law practice management software founded in 2015. Today, Zola Suite has become a favored management software for thousands of law firms. It is used to help lawyers with task management, case management, full accounting, and managing documents.
The firm has a mobile-friendly stem that improves efficiency and boosts productivity. The system has a fantastic design and excellent user experience. The mobile app is free to install on Android or iOS devices. This makes it easy to access your files anywhere from a single source.
Zola Suite features two-way synced email, mobile apps, records management capabilities, and integrated billing and accounting.
This review will examine the software's design, features, usability, and effectiveness for attorneys and law firms.
---

Zola Suite is a cloud-based law practice management software. The Zola Suite dashboard allows you to track your time, bill clients efficiently, and create invoices. It also includes a legal expense tracker that helps keep track of expenses so you can adequately bill clients for them.
With Zola Suite, your law firm can keep track of your clients, cases, and billing in one place. You can also get notifications when documents are due or when a client calls so that you don't miss anything important. You can also set up reminders for upcoming deadlines or tasks related to each client. This is so you don't forget anything important when working on their case.
One of the unique features of Zola Suite is its ability to integrate with other apps like Google calendar Xero or Quickbooks Online. This makes it easy for you to automate the invoice creation process. It also integrates with existing email accounts. It then detects all incoming emails related from case-related contacts and cases.
Zola Suite comes in three pricing versions; Core, Enterprise, and Enterprise Plus. Both Zola Suite pricing versions give you everything listed above. Both Zola Enterprise and Enterprise Plus offer you rules-based calendaring. Core only provides 1 TB of document storage, while the other versions have unlimited storage.
Enterprise Plus can save files from any application, has a smart in-document search, and an AI-enabled OCR. It also offers split billing, consolidated invoices, report scheduling, and custom permission profiles.
Key Features of Zola Software
Zola Suite is law practice management software that offers lawyers and law firms a full suite of integrated tools. The software includes case management, document management, a mobile app, time tracking, scheduling, and research and billing.
Case Management
A robust case management system that manages your cases from creation to closing. It includes tools for managing documents (including scanned documents), contact management, eFiling, eSignature and calendaring.
The Zola Suite is an all-in-one law practice management software that helps manage every aspect of your firm. You can use the application for small to large law firms and solo practitioners. It offers a wide range of features that help attorneys manage their cases more efficiently.
Mobile App
You can access your cases on your mobile devices using Zola's mobile app. This allows you to review your pending matters while on the go or while waiting in court. The app also lets you create new matters directly from your phone, so you don't have to wait until you get back to your desk.
Time Tracking
The time tracking function within the Zola Suite makes it easy for law firms to bill clients accurately for their work. You can assign time entries to specific tasks within each matter. Attorneys can also add notes about all tasks on each entry to stay organized throughout the day. The case tracking feature lets you keep track of each case you have on your docket at any given time using an activity log.
Calendaring
Schedule appointments and tasks quickly and easily using Zola's calendar interface and contact management. You can also use Zola's email reminders feature, so clients know exactly when their appointments are scheduled without looking at their calendars themselves. With Zola Suite, you improve your time keeping, and schedule meetings and conferences with multiple parties at once. You don't have to coordinate numerous case related contacts and emails back and forth!
Document Management
The document management system within the Zola Suite allows users to store, organize, and retrieve all of their files easily. The software also comes with a robust search feature that makes it easy for users to find what they need quickly and efficiently.
The system lets you upload documents and search them by keyword. You can also share documents with other lawyers or clients in the Zola community. The software also lets you create folders within folders to organize your documents even further. You can also assign documents to specific cases in the case management module.
Billing and Invoicing
Track billable hours and expenses, create invoices, and send them out electronically to clients when an invoice is due. You can also automatically send billing statements to clients regularly. The billing module lets you customize invoices based on your firm's policies, such as adding late fees for overdue payments or including credit card processing fees.
Billing
Zola Suite offers several billing options for lawyers who want to charge clients hourly or by flat fee. You can set up recurring billing cycles with multiple rates per hour or charge one flat fee per case. The software automatically calculates billing totals based on work performed throughout each billing cycle. Zola also integrates with online platforms, allowing users to accept credit card payments at no additional cost.
Payment Tracking
The Zola Suite allows you to keep track of all payments received by clients using their online payment processor. You can also accept checks through an integrated bank account feature within the software.
Accounting Management
The Zola Suite will deliver a robust, complete accounting suite that tracks client invoicing and payments, billable time, expenses, etc. It supports multiple currencies and is compatible with international tax rules. Zola Suite integrate with popular accounting platforms such as QuickBooks Online and Xero, allowing you to track your finances.
The software allows you to manage all aspects of accounting. These include accounts payable and receivable, cash flow management, budgeting and forecasting, financial statements, job costing, and pricing analysis. The software offers legal accounting, trust matter management, and cost management.
Legal Accounting Option
Zola Suite includes the ability to track and manage your accounting. You can keep track of your time entries and billable hours, making it easier to understand the profitability of each client. You can also track expenses and generate invoices for clients.
The legal management component allows you to manage all aspects of your law practice from a single platform. This includes e-discovery, document storage, client communication, and billing. The legal management component can also be integrated with other systems such as Office 365 or Dropbox to access your files online easily.
The system handles matters in real-time and provides a comprehensive list of reports that you can use to track clients, cases, bank accounts, and invoices.
Trust Accounting Matter Management
The trust accounting feature allows you to keep track of all trust accounts. It also allows you to enter the amount of funds deposited into each trust account and monitor when they are withdrawn from an account. This is helpful when tracking client payment histories and ensuring that all records are up-to-date at all times.
Zola also allows you to manage your trusts by creating custom fields and adding them to the trust document templates you create within Zola. You can track assets transferred into a trust, updates on beneficiaries and payouts from trust accounts, and income received by trusts or distributions made out of trusts.
Cost Tracking and Management
The Cost Tracking feature allows you to easily track all costs associated with your cases (e.g., expert witness fees). You can then use this data to create custom reports or run cost analysis reports based on specific parameters (e.g., average hourly rate per matter type).
Pricing Review
There are three Zola Suite pricing options. The pricing below includes unlimited users, unlimited case files, and unlimited cloud storage (except for 1TB of storage on the Core version). Each Zola pricing plan offers unique features.
Free trial
You can enjoy this plan for 10 days while enjoying an array of case management capabilities, including billing & accounting, task management, matter management, client portal, and IOS and Android mobile apps.
Core Plan
Zola offers three different plans for its customers, either billed annually or monthly. You get to save over $10 per month for each when billed annually. The Core plan is $59 per month per user and includes unlimited pages, websites, and stores.
Enterprise Plan
The Enterprise plan is $79 per month. It includes all of the features in the Core Plan plus unlimited document storage, productivity tracking, CRM and intake management tools, and enhanced accounting features.
EnterprisePlus Plan
The EnterprisePlus plan starts at $89 per month and includes all of the features in both previous plans. It also offers custom permissions, advanced records management, department-based accounting, and zDrive.
Setting Up An Account
Zola Suite is designed to help lawyers streamline their day-to-day operations and increase productivity. With easy access to all of your cases in one place, you can focus on what matters most — building relationships with your clients. If you want to get started with Zola Suite, you can easily do so through the following steps;
Go to zolasuite.com, and click on the Sign-Up button in the top right corner of the screen to create your account
You can choose from the free trial or sign up for the premium versions
Enter the name of your practice, email address, password, and billing details. Fill out other requisite information in all fields
Set up your pricing plans, payment terms, and billing frequency
Once you complete this, click on "Create My Account."
You will receive an email with a link to activate your account and provide additional information, and then you will be able to access your Zola account.
Pros
Full Integration
Zola Suite integrates with your calendar, email, and other apps to make sure you stay organized and on schedule. You can also integrate with third-party applications like accounting software or document management systems.
Full Integration
The interface is clean and easy to use. You can customize it to your liking with themes and color schemes. You also get an efficient support team to help when you need help.
Mobile-Friendly
Whether using a smartphone or tablet, Zola Suite looks excellent on all screen sizes, resolutions, and mobile devices. You can even view documents created by others if they have shared them with you through the app!
Cloud Storage
All your documents are stored in the cloud, so they are always accessible from anywhere with internet access (smartphones, tablets, etc.) from a single source.
Intuitive Billing
Billing clients is straightforward because it uses an intuitive interface instead of manual entry into fields like other systems do!
Cons
There's no Spam Protection
Zola Suite lacks any built-in spam protection feature. If you're using Gmail or Outlook as your email provider, you'll need to configure an add-on to filter out unwanted emails before they reach your inbox automatically.
Calendar Management Requires Subscription to LawToolBox
You do not have access to the full range of features unless you subscribe to LawToolBox, a paid service.
No Integrated Payroll Processing
There is no integrated payroll processing in this platform, so if you want your employees' paychecks processed automatically, you need to use another service.
Conclusion
Zola Suite is one of the most sought legal practice management software. Zola Suite offers a full suite of integrated tools, including task management, client intake, scheduling, billing, document management, and online payment processing. The platform's dedicated software modules allow users to manage their time more efficiently and help them focus on providing the best possible experience for their clients.