Published : September 05,2022
Instant Checkmate vs TruthFinder: Which Is Best?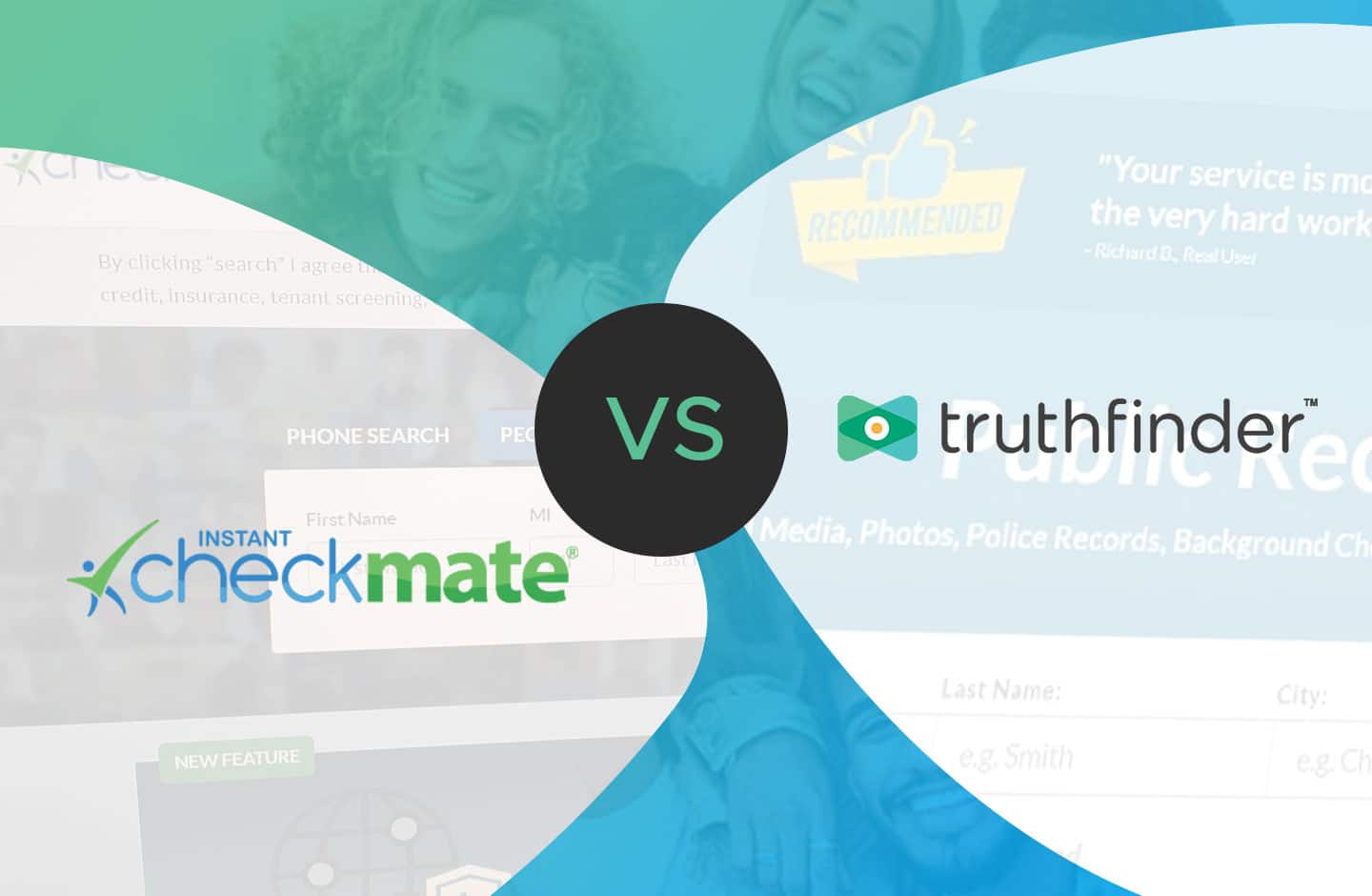 Published : September 05,2022
Background checks are valuable resources that verify and reveal information on an individual. There are background check providers available today, with Instant Checkmate and TruthFinder being two of the most popular options. But which is better at providing thorough background checks? Instant Checkmate or TruthFinder? 
We did a side-by-side comparison of Instant Checkmate vs TruthFinder to determine which is the best. In this guide, we touch on various details about each platform, including its services, features, and pricing models.
Let's dive in and figure out which is the best background checking service available.
Both Instant Checkmate and TruthFinder offer some of the best background checks services. These two competing companies have a lot in common and share many of the features. In fact, their pricing strategies, menu system, and search engine functions are almost exactly identical. 
And it's no secret why — the two platforms were founded by the same people. Joey Rocco and Kristian Kibak started both services, lending inspiration from one to the other in terms of services, tools, and updates. That's why it's important to compare these services and highlight what makes them unique.
---

Founded in 2010, Instant Checkmate is a public records search service that gives you the ability to get online background checks quickly and easily. As far as background check sites go, Instant Checkmate is considered one of the best.
Overview
Instant Checkmate offers comprehensive reports and extensive public records searches.
The interface is hyper-focused on the search function, which is friendly and simple to use. Members can search for someone by name and location.
Each background check report provides a detailed breakdown of the person's location history, criminal records, social media presence, and more. Licenses, bankruptcies, and liens are considered premium pieces of information, so you must pay extra for those.
While you may pay a premium for a background check, the detailed information you could get is priceless.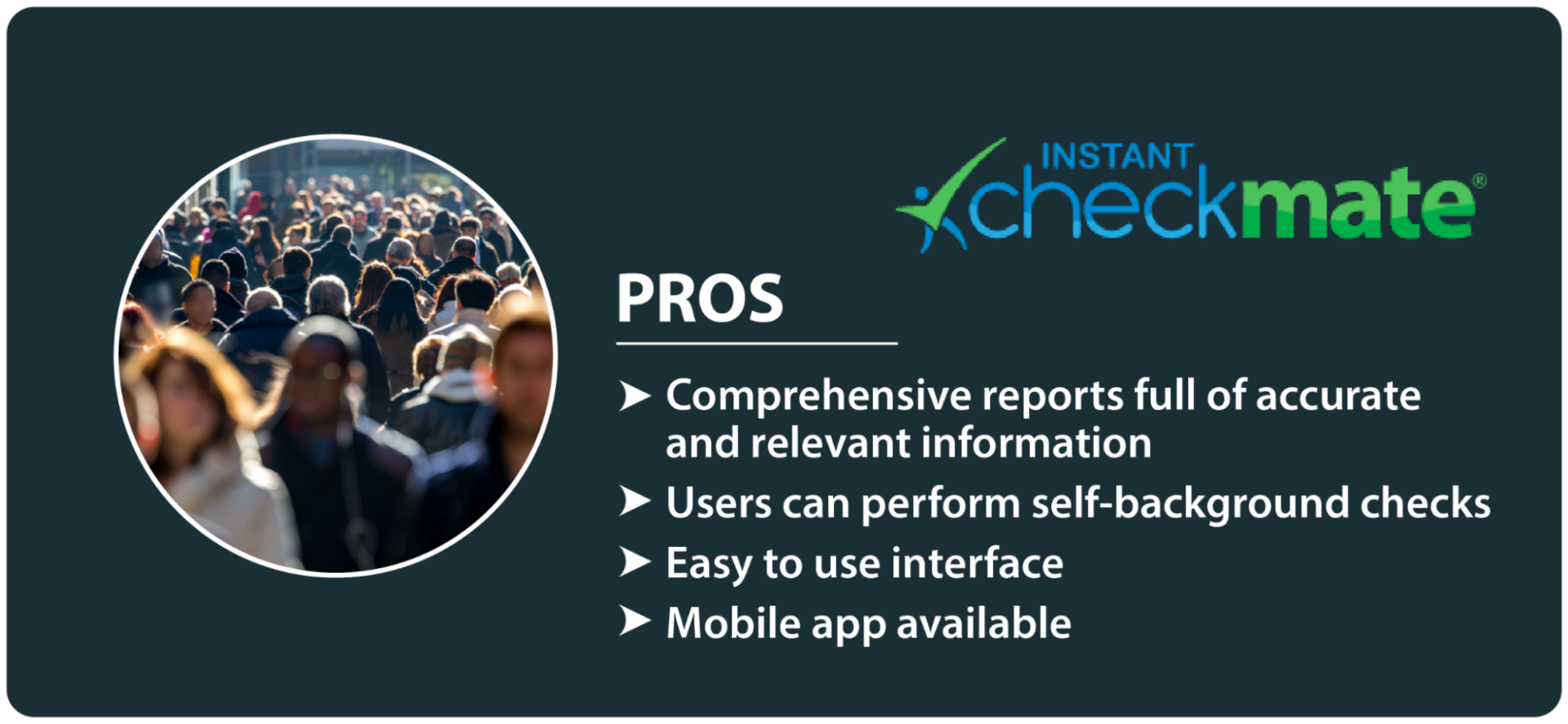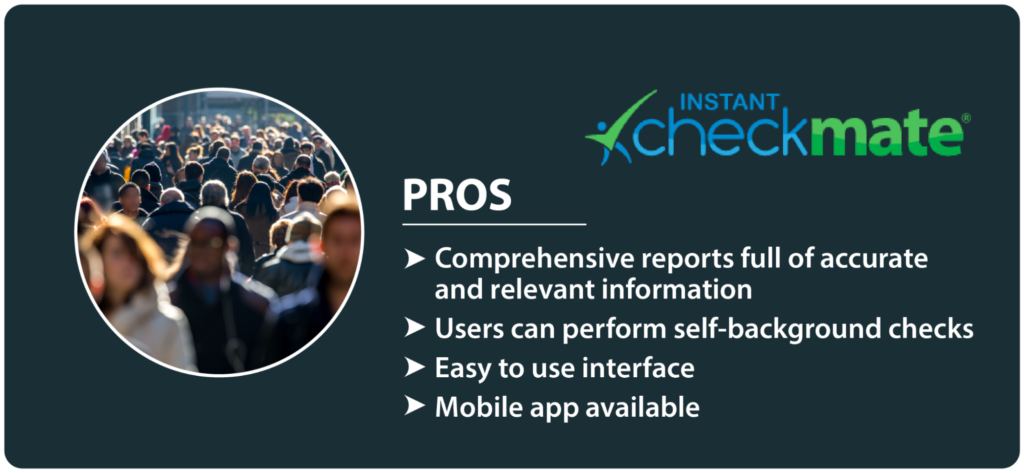 Features
Instant Checkmate offers various features and benefits to users, such as:
People Search Function
The People Search feature can search for anyone, even yourself. You have to enter the person's first and last name and Instant checkmate will find relevant information on that person. You can also request to have any information you find about yourself removed from the site. But, it will only be deleted from Instant Checkmate, not other background check websites.
Criminal History Feature
The criminal records search function can help you check if someone has committed criminal offenses in the past. This feature works best with detailed information, like the person's exact name, location or age.
Reverse Phone Lookup Service
Instant Checkmate's reverse phone number search feature is one of the on the market. If you are receiving calls from unknown phone numbers, their database can find the caller's name and address.
Pricing and Plans
Instant Checkmate is quite expensive. The service charges $34.78/month for its standard membership plan that gives access to limited information. If you want to get your hands on all details found in the report, you will have to pay an additional $19.95 per background check.
Luckily, there is a trial period that costs $1 and provides unlimited access to reports for up to five days. Once the trial has ended, the platform will automatically charge you for the subscription.
Instant Checkmate accepts Visa, PayPal, and Mastercard as payment methods.
Interface and Ease of Use
Instant Checkmate has a user-friendly interface that's easy to use. There is also a mobile app available for both iOS and Android devices. Whether on desktop or mobile, it's easy to perform a search and sort through results.
Customer Support
Instant Checkmate provides 24/7 customer support. The customer service team can be reached via email, phone, or on Instant Checkmate's social media accounts.
Live chat and community forums are not available as support options. While a rep isn't the easiest to get a hold of, the customer service is superb when you can reach someone.
Platforms Supported
The platform is available on all desktop and mobile devices. It has a mobile-friendly website that's also available as an app on iOS and Android devices.
Pros
Comprehensive reports full of accurate and relevant information

Users can perform self-background checks

Easy to use interface

Mobile app available
Cons
Limited information provided with the standard plan

Customer support is lacking
---

TruthFinder is also a background check and people search service that provides detailed information in its background check reports. The company was founded in 2003, which makes it the older of the two services. TruthFinder has the ability to search for anyone in the U.S. based on their name and phone number.
Overview
TruthFinder is a well-known background check company that looks for online information and personal data on any specific person.
This background check service searches through hundreds of millions of public records to give you the information you need. This revealed data may include the person's date of birth, traffic records, criminal background info, arrest records, social media profiles, divorce records, and more. It then compiles all relevant information into one easy-to-read report.
TruthFinder does more than just background checks. The company also provides dark web scans. This can help you see if you're a victim of identity theft on the dark web.
The platform is both easy to use and simple to navigate. It's available as a website and app on both iOS and Android devices. TruthFinder even offers detailed explanations on how its background reports work and how you can use them. These are complete with tutorial videos and screenshot photos.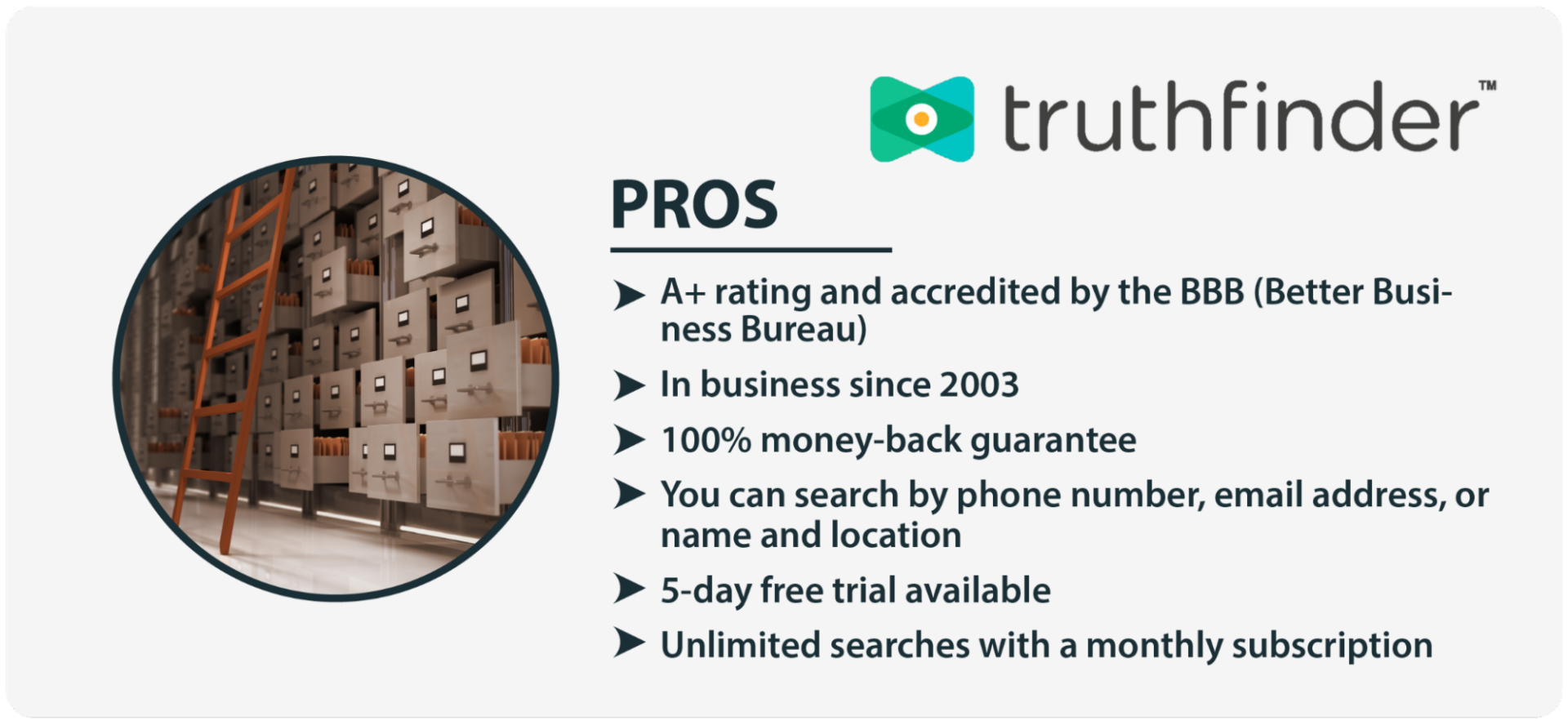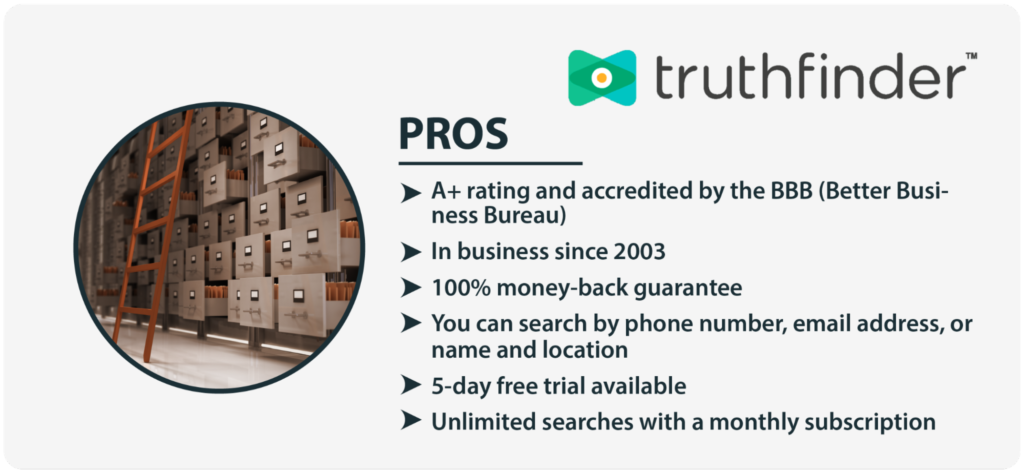 Features
TruthFinder also offers many advanced features and tools, such as:
People Search Tool
TruthFinder's People Search engine is comprehensive. All you have to do is enter the name and state of the person you're looking to learn more about. After that, TruthFinder will search for the individual's real name, age, and social media presence. This type of search may also reveal details of the person's criminal past.
Reverse Phone Lookup Tool
The reverse phone lookup service can search for further information on a specific phone number and inform you of any alternative phone number or email addresses. This type of search may also reveal any business registered to the phone number.
Reverse Email Lookup
The software can also take an email address and return details about the owner of the account. This search may also show other information connected to the email, like social media profiles and even dark web content.
Pricing and Plans
A subscription option is available with TruthFinder. The platform offers a 5-day free trial and 3 subscription payment options to its customers.
A standard, one-month subscription costs around $30/month. The 2-month subscription costs just $26/month. Each subscription offers the same features, but they cost differently depending on whether you pay for a few months in advance or not.
TruthFinder also offers a money-back guarantee. Instant Checkmate doesn't appear to offer that guarantee.
This platform also accepts Visa, PayPal, and Mastercard as payment methods.
Interface and Use
As we mentioned, TruthFinder is very easy to use. The platform is highly intuitive and easy to navigate. That means you can expect even newcomers to navigate easily across TruthFinder's online app.
Customer Support
TruthFinder provides customer support via email, phone, and through their social media profiles.
Live chat and community forums are not available support options for TruthFinder customers. Their reps aren't the easiest to get a hold of, but customer service is superb when you can reach someone.
Platforms Supported
TruthFinder is available on a desktop computer and through its mobile app. The app is compatible with both iOS and Android devices.
Pros
A+ rating and accredited by the BBB (Better Business Bureau)

In business since 2003

100% money-back guarantee

You can search by phone number, email address, or name and location

5-day free trial available

Unlimited searches with a monthly subscription
Cons
Limited customer support options

Expensive service
Background Check Service FAQ
How do I know which background check services platform is best for me?
The best background check service for you will depend on your needs and budget. Both TruthFinder and Instant Checkmate can look for a person's criminal records, help you find long-lost relatives, or do something else entirely.
Instant Checkmate's platform does provide more comprehensive background check reports and faster results, but it's the more expensive option. If you're looking for hard-to-find information like assets, liens, and even bankruptcies, we recommend Instant Checkmate. This is a great option if you need a one-off report.
On the other hand, if you want to perform a dark web scan on yourself or on someone else, try TruthFinder. Its background check site has the ability to conduct extensive dark web scans to see if your identity has been stolen anywhere across the dark web. Plus, it's the more affordable option.
Ultimately, it's up to you and your preferences on which you choose. Both are considered among the best background check services.
Which is better for finding criminal records?
Both background check companies can find basic criminal records. If you want to get a comprehensive background report that includes the person's criminal background, both Instant Checkmate and TruthFinder can get the job done.
What information is needed to start a background check search?
The key is to provide as much information as possible for a background search. The more details you provide, the more accurate the search is. For example, the person's name, age, and location are all optional fields but will help you narrow down your query.
If you have limited data, simply use what you have. You need a name to start and the service will take it from there.
Are background check searches anonymous?
Yes, background searches on Instant Checkmate and TruthFinder are 100% anonymous. You do not have to worry about the person being alerted that you've searched for them.
How do Instant Checkmate and TruthFinder get their data?
Instant Checkmate and TruthFinder get their data from public records that are available on the internet. These platforms are not considered consumer credit agencies under the Fair Credit Reporting Act (FCRA) and therefore cannot be used for tenant screening or hiring reasons.
Instant Checkmate vs TruthFinder: Final Verdict
In conclusion, we'll let you decide whether Instant Checkmate or TruthFinder is better. Each platform supports different types of searches through the person's name, phone number, email address, or location. The main difference lies in their pricing model.
Both background check services are reputable companies that can provide you with a detailed report. We hope you enjoyed this review of Instant Checkmate vs TruthFinder.