Published : September 22,2022
Intelius vs TruthFinder: Which one is the best for you?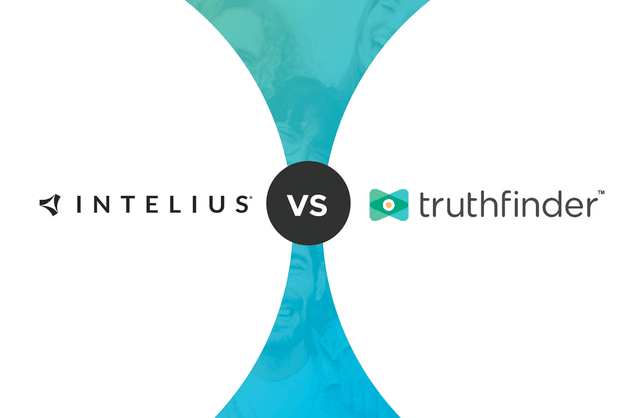 Published : September 22,2022
There are many reasons why someone would need a background check. There are also many services available online that use private and public databases to conduct these background checks. Both Intelius and TruthFinder are among the top companies providing such services.
But, which is better: Intelius or TruthFinder? We wanted to get to the bottom of this. So, we did a side-by-side comparison of Intelius vs TruthFinder to help you decide which is the best based on your own needs and preferences.
In this guide, we'll touch on everything about each background check site – from its pricing and features to its pros and cons. Without further ado, let's dive in!
The two platforms we'll be looking at today are:
Let's look at the two background check sites further to learn more about the services they provide.
Overview: Intelius vs TruthFinder
While the world of background check services is vast, we narrowed it down to Intelius and TruthFinder for this comparison. Each is one of the best background check services on the web, so both are worth mentioning. 
In fact, the information they provide can be invaluable for a number of reasons. These background check sites can access various public records and provide you with an in-depth background report that goes into detail about the person you're searching for.
Though the two services have a lot of the same features in common, they are not the same. Depending on the type of search, they may provide different sets of information.
For example, you can get data about tax liens and assets from TruthFinder, but not on Intelius. And you can't find data about bankruptcies on TruthFinder, but it is available on Intelius.
Let's use this table to compare these two background checkers.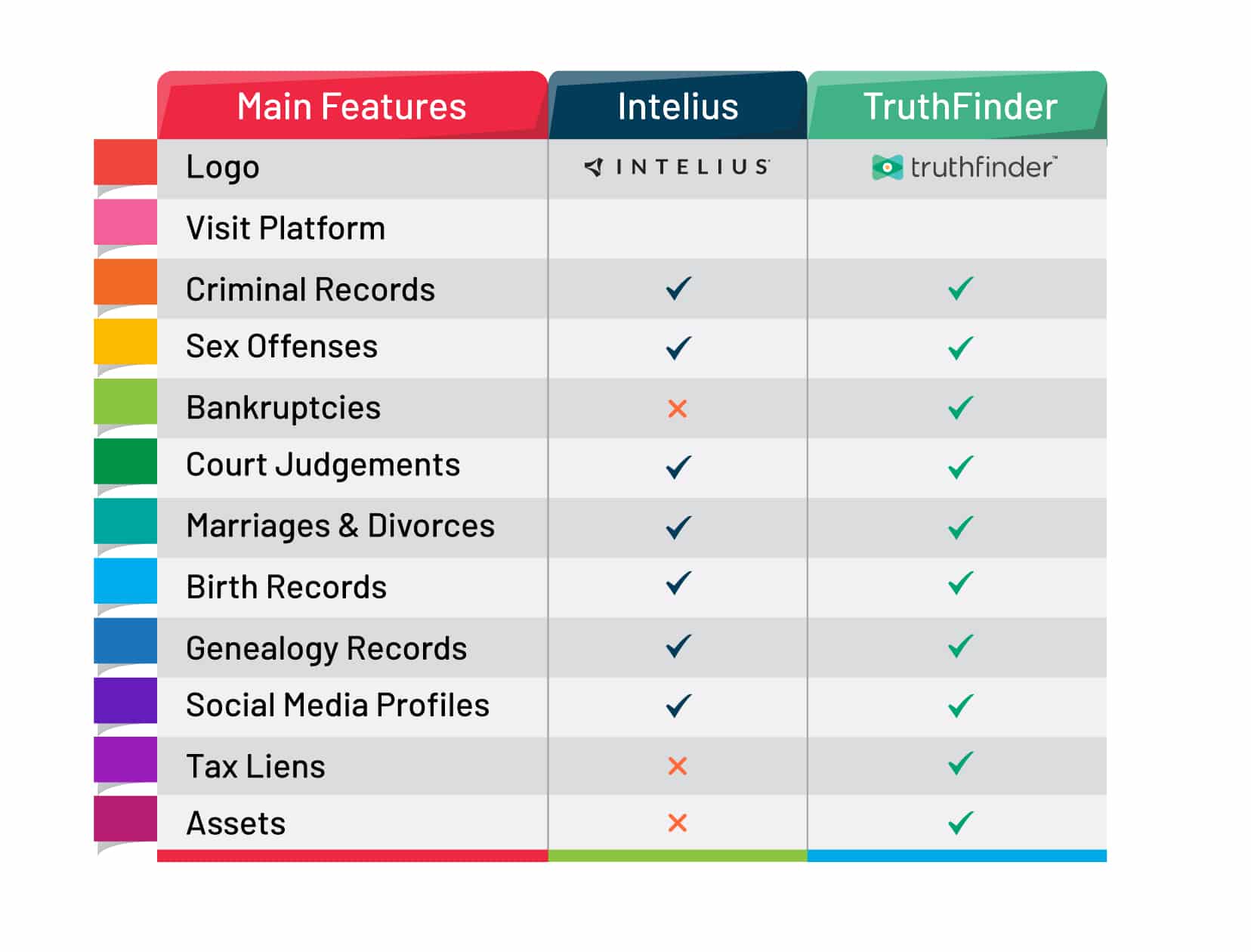 ---

As far as background checking services go, Intelius is one of the best. Intelius provides a variety of different searches and offers many types of features to its users, including a reverse address search and a reverse phone lookup feature.
The background checker works hard to ensure they provide accurate information across their massive swaths of data. Out of all the background checking companies, we've come across few that can match up to Intelius.
Features
Intelius can do almost everything. The site offers tools for an address lookup, phone number lookup, email lookup, city and state lookup, and age and birth date lookup, and it's mobile-friendly.
Plus, there is a mobile app available for both iOS and Android devices.
Intelius also offers extensive background check services that search for:
– Extensive Criminal Records
– Property Records & Address History
– Sex Offenses
– Court Judgements
– Educational History
– Marriages & Divorces
– Birth Records
– Genealogy Records
– Social Media Profiles
However, Intelius doesn't provide information about tax liens, assets, or bankruptcies.
Interface and Use : Intelius is both user-friendly and easy to use. The website is so well-designed that even newbies can feel confident behind the screen when they're using Intelius.
Customer Support : The customer service team on Intelius isn't the easiest to get a hold of, but when you do reach them, the reps are fantastic to work with.
Platforms Supported : The platform is available via a mobile-friendly website or through a mobile app that's compatible with both iOS or Android devices.
Pricing and Plans
A subscription plan is available for Intelius. For $19.95/month, you can enjoy the core features of this background check service.
There are additional costs to access complete background checks, statewide criminal history reports, and nationwide criminal history reports. The complete check costs an additional $2.95, while the statewide and nationwide criminal reports cost $49.95 each.
There is no free version of Intelius offered. However, there's a free trial frequently rotating between 2 and 7 days long.
Pros
Excellent customer service

Thorough and detailed reports

Reverse phone number and address lookup tools are available

Impressive A+ rating from the BBB (Better Business Bureau)

Unlimited background checks with a subscription

Social media searches and social media data available
Cons
Confusing pricing model

Cannot find tax liens or information about assets on Intelius
---

Founded in 2003, TruthFinder is another one of the most popular background check providers. There are no unanswered questions when it comes to TruthFinder.
TruthFinder gets its info from public records and other resources. The background check service covers social media accounts, personal information, bankruptcies, arrest records, contact details, and more. All of this information is given to you in a visually-appealing report that's easy to understand.
The platform is easy to use and provides a streamlined interface that makes it simple even for newcomers. Plus, TruthFinder is available on a mobile-friendly website in addition to mobile apps on iOS and Android.
In fact, the platform offers detailed explanations on how to use it. These explanations of how background checks work in the first place are very helpful for users. Such resources are complete with tutorials, screenshots, and videos.,
TruthFinder even offers a dark web scan to see if any of your personal information is being sold on the dark web. Allow the site to scan the dark web for you and uncover whether you're a victim of identity theft.
Features
TruthFinder can do it all – from reverse phone number lookups to people searches. They also provide detailed and accurate background check reports that may include:
– Criminal Records
– Sex Offenses
– Bankruptcies
– Court Judgements
– Employment History
– Marriages & Divorces
– Education History
– Birth Records
– Genealogy Records
– Social Media Profiles
– Tax Liens
– Assets
Interface and Use : The background check service may be one of the easiest-to-use platforms we've reviewed. With a simple, intuitive interface, even newcomers can navigate without an issue.
Customer Support : While TruthFinder's customer support team isn't available 24/7, there are multiple ways to contact them. You can reach a rep by email, phone, or even through their social media accounts. Unfortunately, TruthFinder doesn't have any community forums or live chat options available at this time.
Platforms Supported : The platform is available via a mobile-friendly website or as an app on iOS or Android.
Pricing and Plans
TruthFinder is available with a monthly subscription plan that's about $23.02/month.
The service offers both a 5-day free trial and a 100% satisfaction guarantee. The money-back promise instills confidence in users. There also doesn't appear to be any one-off fees for using additional services.
TruthFinder accepts Visa, Mastercard, and PayPal as payment methods.
Intelius vs Truthfinder FAQs
What is included in background check reports?
The information included in a background check is determined by the service and type of search you select. Standard details can include traffic records, court records, criminal records, known addresses, phone numbers, property ownership, and more. 
More thorough services, like Intelius and TruthFinder, can even track social media profiles or identify someone's presence on the dark web. Overall, there are an array of options at your disposal when it comes to background checks.
Do background checks look at criminal records?
Yes, background checks can look at criminal records. These types of criminal records checks search through federal, state, and local records to see if the person has any felony convictions or misdemeanors.
Do background check services offer a satisfaction guarantee?
Some background check services offer either a free trial, satisfaction guarantee, or both. For example, Intelius offers a free trial and TruthFinder offers a 100% money-back guarantee to its users.
Are background checks accurate?
Accuracy can vary depending on the background check service used. The providers on our list go to great lengths to return accurate, solid results. It's still a good idea to double-check other customer reviews if you're considering an online background check service.
What is the Fair Credit Reporting Act (FCRA)?
The Fair Credit Reporting Act (FCRA) is a piece of federal legislation that protects the privacy of consumer information in the documents of consumer reporting agencies.
Are there any circumstances where I shouldn't run a background check?
Absolutely. Online background check services are not considered consumer reporting agencies under the Fair Credit Reporting Act (FCRA). This means you cannot use background check services to make decisions about insurance, tenant screening, or employment.
So, you can check out a new coworker, but you can't use Intelius or TruthFinder for employment background checks. You can look at a new neighbor, but not use these services for tenant screenings.
Can I do a background check myself?
Yes, you can do a background check yourself. However, the process is very time-consuming and tedious. The best background check services can help to streamline that process and provide accurate, detailed results.
How long does it take to get the results from a background check service?
Usually, it takes only a few minutes to get the results of your background check. However, some services are more thorough than others, so they may take longer. Additionally, you might be asked to provide additional details to confirm the results.
How much does it cost to run background checks?
Prices vary depending on the platform you choose. Be sure to look at the plans and pricing for Intelius and TruthFinder above on our list.
Why would I pay for a background check?
There are many reasons someone might want to get a background check. Have you been looking for a long-lost friend or family member? Or, maybe you're online dating and want to find out if the person has a criminal record.
These platforms make it possible to check up on someone without them knowing. It never hurts to dig up a little information. You can access loads of telling information, like traffic records, court records, marriage records, and so much more.
The best background check service will be right there when you need it most.
Intelius vs TruthFinder: Final Verdict
Intelius and TruthFinder are reputable background check platforms that have their pros and cons. Neither one is the best background check website. Both of these background check websites provide reliable, accurate services.
Out of all the background check services on the market, these are easily two of the best background check services. But we'll let you decide which is better. It's our goal to help you find a background check service for your specific needs.