Published : October 19,2022
Who is Calling Me: What is Reverse Phone Lookup?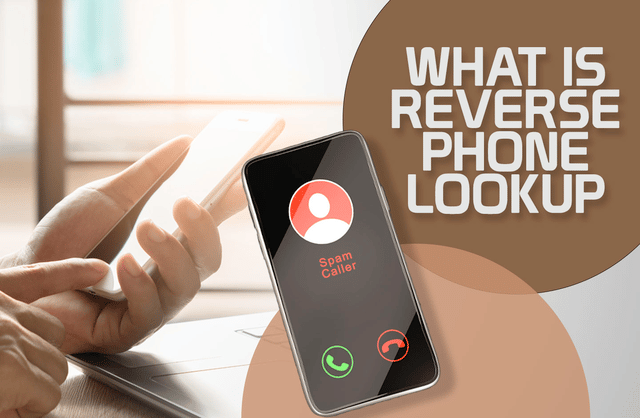 Published : October 19,2022
Have you been receiving strange calls but have no idea who's on the other side of the phone? Would you like to find out someone's name from their phone number? Well, reverse lookup websites have the answers you need.
While there are lots of reverse phone lookup search providers across the internet, you want to make sure that you're dealing with legit websites. Fortunately, that is what we will be examining in this article.
We have put together the best sites for reverse phone lookup services. You will also learn how to spot fake numbers and what to look for when choosing the right phone lookup service.
What Is a Reverse Phone Lookup?
A reverse phone lookup is a type of search that discovers the owner of a phone number. Simply enter the phone number and the reverse search will find who the number belongs to.
Reverse phone lookups are offered by various phone lookup websites to help you reveal the name/identity of unknown phone numbers. Some websites will even let you know if it's a spam caller.
How Does a Reverse Phone Lookup Work?
Reverse phone lookup tools work by searching through online public records. Some websites permit you to upload multiple phone numbers at once and give you the results instantly, while others may require manual queries. Some also allow users to search via API calls.
Performing a reverse phone search is relatively straightforward. Simply type the phone number(s) into the reverse lookup website search bar and hit enter. You will then receive the person's full name and address. If you opt for the paid search function, you may get more detailed personal information as well.
When Do You Need a Phone Number Lookup?
A reverse phone number lookup service will come in handy in various situations, such as:
A Scammer

– Thanks to the digital era, there are more phone scams than ever before. These scammers often use unknown caller IDs to perform fraudulent acts. When an unknown number pops up on your screen, you can use a reverse phone search to prevent fraud or theft. A reverse phone number lookup will help to reveal their identity.

Telemarketers

– Are you tired of receiving multiple phone calls a day from telemarketers? A reverse lookup search will reveal whether the unknown call you're getting is either spam or telemarketing. Then, you can block the caller.

A new number from a friend or relative

– If you missed several calls from an unknown number, a reverse phone lookup can help you find out if the phone owner is a long-lost friend or a distant relative trying to get in touch with you. A reverse phone lookup tool can help you reconnect with that loved one.
What Information Can You Find in a Reverse Phone Lookup?
A reverse phone lookup tool can help you find out the name and home address associated with an unknown caller. It may also obtain other personal information depending on the provider and subscription plan you choose.
With most reverse phone lookup tools, you can find out the following information with just a phone number:
The state and city of the caller.

The phone companies that own the unknown numbers.

Whether it's a cell phone or landline number.
How to Spot a Fake Phone Number
People use fake numbers all the time. Oftentimes, it's because they want to perform a fraudulent act or scam you. So, how do you differentiate a real number from a fake one?
A reverse phone lookup service is a helpful resource in these scenarios. If there are no records or basic details provided, like the name or address of the caller, run it through one of these reverse phone lookup sites.
Best Sites for a Reverse Phone Lookup
Spokeo

– Best free reverse phone lookup service

Instant Checkmate – Best for identifying multiple unwanted calls
---

Spokeo is one of the best people search websites, and for good reason. With Spokeo, you can find the identity (name and address) of the unknown caller by entering either a cell phone or landline number.
Features
Reverse address lookups

Social media lookups

Tenant screening services

Background check services
Pricing
Spokeo's monthly subscriptions and individual phone searches are both affordable, ranging from $0.95 to $1.95 for a one-time reverse phone lookup search.
What Is Included Free Version vs Paid Version?
Spokeo offers both free and paid reverse phone number lookup plans. With the free version, you are limited to basic information such as:
The phone owner's name and address

The phone type

Possible family members
The paid version will reveal much more, including:
Court records

Photos

The phone owner's age

Family background details
User-Friendliness
Spokeo's platform is easy to use. You can navigate the website quickly and easily, plus Spokeo provides search results within seconds.
Pros
Provides results in seconds

Has a free reverse phone lookup plan
Cons
Users need to pay to get further background information
---

With Instant Checkmate, you can discover the identity of the caller, as well as their location, criminal records, and more!
Features
People search bar

Criminal records search

Sex offender database

Reverse phone number lookup and email database
Pricing
For Instant Checkmate, you'll have to get a paid membership plan for unlimited reverse phone lookups, background checks, etc. There are multiple tiers, costing either $35.12/month for one month or $28.09/month for three months.
What Is Included Free Version vs Paid Version?
While Instant Checkmate offers a free version, the results are limited. Most users pay or subscribe to one of their membership plans for in-depth search results.
The Instant Checkmate Free version includes the following information:
The phone number owner's name

The owner's location

The line type (i.e., cell phone numbers, landlines, or business numbers)
The Instant Checkmate paid version provides everything in the free plan, plus:
Possible photos

Social media profiles

Online account usernames

Other online activity
User-Friendliness
Like Spokeo, Instant Checkmate has an excellent user interface that provides well-detailed information in a short amount of time.
Pros
Provides detailed information about the caller

Offers multiple services, such as background checks and social media checks

Easy-to-navigate website
Cons
Confusing pricing
How To Choose a Reverse Phone Lookup Service?
When choosing the right reverse phone number lookup website, there are some key factors to consider.
Accuracy
One of the most important features to look out for in any reverse phone number lookup website is its accuracy. You want to make sure the results you're getting are correct, up-to-date, and legit.
Spokeo results are guaranteed to be legit and accurate, sourcing its information from billions of online. Likewise, Instant Checkmate gets its data from government records (both federal and local), meaning the information you get is always verified and accurate.
Multiple Services
The reverse lookup providers on this list offer multiple services. For instance, Spokeo can perform reverse address lookups, reverse email address lookups, background checks, and more.
Additionally, Instant Checkmate is not limited to reverse phone lookups. You can extend your search and get a background check, criminal records check, and more on the individual calling.
Ease of Use
An intuitive, easy-to-use platform is another key factor to prioritize. One feature that makes Instant Checkmate stand out is its ease of use. You can select the particular information you need and speed up the search process. Spokeo also has an easy-to-use interface that is fast and intuitive.
Pricing
Affordability is another important factor when considering different reverse phone number lookup sites. Many sites offer free reverse phone lookups, which provide basic results. If you need more advanced options, you will likely have to subscribe to a monthly or yearly plan.
Frequently Asked Questions
What is the most accurate reverse cell phone lookup service?
Both Spokeo and Instant Checkmate are highly accurate reverse cell phone lookup services. These people search services provide accurate and up-to-date reports, using public records and government databases.
Can you really find a name from a cell phone number?
Yes, you can really find a name from a cell phone number. After choosing the reverse lookup site of your choice, simply enter the phone number in the search bar and the name of the owner will be displayed. Timing may vary depending on the service provider you use.
Bottom Line
There are various reverse cell phone lookup websites across the internet. However, not all of them are legit. Fortunately, this review provides you with some of the best websites for reverse phone searches based on accuracy, pricing, and ease of use.
Both Spokeo and Instant Checkmate are reverse lookup websites that you can trust to identify spam callers and annoying telemarketers.
Disclaimer: The information provided on this website does not, and is not intended to, constitute legal advice; instead, all information, content, and materials available on this site are for general informational purposes only. Information on this website may not constitute the most up-to-date legal or other information. This website contains links to other third-party websites. The Justice Collaborative may receive a commission when users click on the links and make a purchase on the third-party website.

The views expressed are those of the individual author. All liability with respect to actions taken or not taken based on the contents of this site are hereby expressly disclaimed. The content on this posting is provided "as is;" no representations are made that the content is error-free.